A seasonal round-up of Soliti releases from 2021
Checking back on what I wrote about 2020, it turns out in many ways 2021 has been of a similar vintage. The pandemic has been present everyday in how we operate as a label. Yet, there has been some time for celebration: Soliti turned 10 in 2021 and we have celebrated in the best way we know, by releasing great music. Although at times it's felt like releasing records into a void — due to the pandemic — a lack of shows surrounding releases has meant only part of the story has been told. Still, music has been such a gift  and a comfort in 2021.  Music offers a place to dream in, or at least, something to get lost in and forget some of the harsher realities.
It has been a great year for Soliti. As always the bands and artists we work with have kept their standards high and it goes without saying (even though I'll say it,) I'm forever grateful for their continued dedication to upping their game every time. As well as all the music, a big thanks goes to all the artists that have designed record sleeves, the video makers, photographers and everyone who's worked behind the scenes. I wish to thank Christina and Jonttu as they both worked diligently at Soliti HQ whilst often keeping the whole shebang on the road.
All the people that have listened to and bought Soliti releases remain gold. Thank you to those that have written about our releases, played songs at radio stations and added our tracks to playlists and generally spread the word about our releases. We salute you! This year Soliti releases have appeared in more media than ever before, especially in the global context.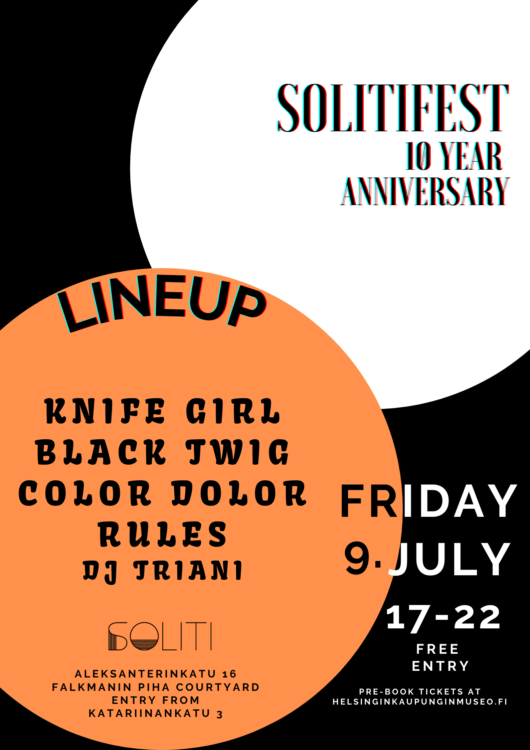 We even managed to have a 10-year party this year, which was fantastic, a fitting way to celebrate a decade of wild-hearted music. Here's hoping for another 10 years of spreading the goodness. Take care and see you on the other side. x
Nick
SOLITI SINGLES 2021 PLAYLIST
This year saw the most eclectic selection of music we've ever released, epitomised by the singles that have steadily appeared throughout the year. Various returns after long silences from Black Twig, Astrid Swan and Color Dolor complemented debut sounds from Knife Girl and Pink Chameleons. A series of singles came from Verandan, whilst Ocelot, RULES, New Silver Girl and KOMI shared new tracks. Here's a chronological playlist of singles and focus cuts that we've released during 2021.
SOLITI VIDEOS PLAYLIST FOR 2020
2021 saw videos from KOMI, New Silver Girl, Pink Chameleons, Color Dolor, RULES, Knife Girl, Astrid Swan and a special anniversary set from The New Tigers.
KO:MI 'Seven Things' Directed by Pasi Virtanen
New Silver Girl  'Pale Statement Pieces ' Directed by Paola Suhonen
Pink Chameleons  'Hot Dog' Directed by Paltsa & Krista Salama
KO:MI  'Flooding, No Rain' Video by Sanna Komi
Color Dolor 'Shy' Video by Juha Ilmari Laine
RULES 'Say It Ain't So' Video by Pekka Härkönen
Knife Girl 'Metro' Edited by KNIFE GIRL and Joonas Haapala
Astrid Swan 'Luxuries' Video by Valreza Collective
Knife Girl '7up' Directed and shot by Saga Kinni
'The New Tigers Debut Album 10-year Anniversary Live' Directed by Appu Jasu.
---
SOLITI ALBUM & EP RELEASES 2021
A Year of dreaming and playing
"Unelmoi EP – was made during the year of 2020. The songs were born, developed and recorded at a different pace, at different times and in different places. Most of the material took form in a so-called free and outward-facing "pre-covid-19" world, but was then developed and worked on in a more enclosed and introverted space. In the lyrics, as well as, in songwriting we wanted to explore new themes. The intention was to break away from the arrogant perspective of the human and give way to the subconscious and the non-human. Nature and dreams are therefore very present on the EP. On the Unelmoi EP, each song is its own world, its own butterfly, its own moment. It is pieces put together from a year of dreaming and playing. The title Unelmoi translates in English to "dreaming/to dream/dream." Read More
"They have a late night lying on your bed feeling the summer breeze gently caressing your radio dial type of vibe about them. They have this pop malarkey well sussed no doubt about it; soulful melodious and beautiful." Monolith Cocktail
"Unelmoi EP proves Ocelot to be a skilled and unique band. Its home-grown but visionary interpretation of the California softrock sound is reminiscent of contemporary American names like Whitney and Drugdealer" Kulttuuritoimitus
"Unelmoi is an imaginative journey into a summer landscape painting, within which there is time to dream."Voima
---
"The album was quite a while in the making, with the first recording sessions dating back to summer of 2017. Luckily we were able to take our time and make the record without any external pressure. We think it shows in the songs, which are richer than before, with more keyboards and acoustic instruments. In the end 2020 was a good time to finish the album, and we feel the lyrical themes haven't aged at all. They deal with both private/personal and wider, social and sometimes even political themes." Read More
"…allowing the song's to sort of meld together into a great collection of well written guitar pop tunes. I mentioned Felt, and I do think there are some similarities, particularly in the way that both bands manage to craft delicate guitar work and pop accessibility into cohesive listens. I promise you, if that's anywhere up your alley, come back for those repeat listens." Track by track review via Austin Town Hall

"…the reality is that the full album surpasses our expectations. New influences supplement the old, with current comparisons tending towards Teenage Fanclub and Sonic Youth. Cue up Was Not Looking For Magic and you are treated to the shoegaze of "New Moon", the jangle pop of "Outdoor Blues" and instrumental "Puuhastelu", the moodier guitar pop of "Typical Winters Day" and "Walking Up A Hill", and the robust album closer "You Never Were Mine" WYMA
"The band sounds both traditional and timeless. They swim effortlessly along in the stream of the recent international neo-psychedelic rock movement….Black Twig has melded their influences into a natural whole." Suomen Kuvalehti
---
 "I have always loved and played garage punk but the last five years or so I wanted to explore also a more mellow and arts-y sounds so in a way this is a kind of a return to my roots. Lyrically the album is dealing with a lot of frustration, anger and boredom. All those random feelings can be expressed quite easily with the aggressive sound of garage punk. I'm a lazy dude so it was quite an easy option" Read More
"Peace and Love is an album of supreme 60s tinged enjoyment and one I would recommend to all you connoisseurs of Garage rock and all things 60s." Monolith Cocktail
"Thirty minutes of buzz-saw electricity and harsh jingle-jangle juice.
Electrifying debut!" Turn Up The Volume! (album of the day)
"They're gonna get you, you gotta see them", they sing in Run and Hide – the same goes for Pink Chameleons." Add To Wantlist
---
"I've compiled some songs I recorded at home the past year for this EP. Some are more goofy than others, but they all represent some part of me." Read More
"…with its candy-coated swirl electropop genre mixing, is like immersing yourself in a never-withering late-night vibe. " C-Heads
"Knife Girl takes a nonconformist journey through genre with the warped and wonderful 'Metro' EP" Earmilk
"…it looks as though Lili's rebirth as Knife Girl sets the stage for an exciting new phase in her blossoming career." Notion
---
"I set out to write about mothering, being a daughter and a mother. I was informed by the simultaneous research process for my PhD which investigates maternal life writing in blogs and memoirs. The title D/other comes from this research. It is a mother/daughter in digital form, and as a trans-affirmative concept which argues that mothering is done by anyone who cares.In the music I wanted to explore sleeping and dreaming as states of unconsciousness which connect us to each other, to those who are dead and that which is in the future. I wanted to explore the logic of the liminal and intra-active, that which slides and transforms. In song writing I focused on clear, comforting and uplifting lines, kind of as always, trying to crystallize what I do melodically. In this case the lyrical depths are presented in comforting pop structures." Read More
"The album is beautifully raw, combining pop and poetic storytelling to uncover the beautiful interplay between life and death". – Noctis Magazine
"Freedom and inspiration can be heard from the effortless arcs of the compositions, which Swan interprets in a heartfelt and straightforward way." Soundi 
"…it consists of ten songs that feature literate and poetic storytelling and Swan's compelling vocals. Swan's dramatic vocals are well-matched by the fulsome arrangements, highlighted by Swan's piano, rich details and polished production. Don't miss this album, it is absolutely terrific." WYMA
---
"The EP is about destructive love. Because we so desperately crave affection, we often overlook signs that we're getting into ugly and unhealthy relationships. Sometimes you try to compensate for the lack of emotional stability by throwing yourself at love, letting it take over your life until you're completely dependent. There are highs and lows in this music, it doesn't only go from good to bad. I wanted to experiment with expressing emotion solely through sound design." Read More
"The alternative artist offers us atmospheric production and an ethereal tone with her breathtaking new EP" Wonderland Magazine
"Knife Girl is definitely one to watch in 2022. Lili Aslo's music combines everything we love – experimental approach, sincerity, humour, catchy melodies and the drive to push boundaries" Loudness
"10 futuristic tracks, drenched in a greater sense of atmosphere and mystery" Going Solo
---
"First takes. Unfinished. Not overproducing, or overthinking, not rehearsing. Trying to leave things as they first came out, demo like." explains Leissi. Stina continues "Mainly we wanted to make fragile and humane music with elements of vocals, guitars and electronics. We wanted to keep first takes, flaws, noises that may have come that we didn't plan or wish for. We wanted to keep it alive and breathing. The name of the album, Blurry Things, was a carrying theme throughout the album making process. Most things in our world are blurry." Read More
"Essentially it's all just brilliant dream pop and an excuse for adventure." Monolith Cocktail
'Blurry things' is atmospheric, art-pop in its truest sense – each track capable of painting a colourful picture in your mind as if you've suddenly developed synesthesia.At one and the same time it offers frailty, power and marvellous inventiveness, a rare combination." Nordic Music Central
"…the two Finns once again bundle their talents together and give the world a record that belongs on every leaderboard for 2021" EINEN HAB ICH NOCH 
---
End of year lists coming soon…