A brilliant collection of sparkling pop that only Ocelot can create

Ocelot present their second full length EP, Unelmoi unveils two new tracks plus the three singles released throughout 2020.
A Year of dreaming and playing 
"Unelmoi EP – was made during the year of 2020. The songs were born, developed and recorded at a different pace, at different times and in different places. Most of the material took form in a so-called free and outward-facing "pre-covid-19" world, but was then developed and worked on in a more enclosed and introverted space. In the lyrics, as well as, in songwriting we wanted to explore new themes. The intention was to break away from the arrogant perspective of the human and give way to the subconscious and the non-human. Nature and dreams are therefore very present on the EP. On the Unelmoi EP, each song is its own world, its own butterfly, its own moment. It is pieces put together from a year of dreaming and playing. The title Unelmoi translates in English to "dreaming/to dream/dream."
Songwriting, arrangements and composing: Emilia Pennanen
Piano and vocals: Emilia Pennanen
Arrangements and composing: Rasmus Pietilä
Bass, percussion and backing vocals: Rasmus Pietilä
Drums, percussion and parts of lyrics: Victor von Hellens
Recording and mixing Rasmus Pietilä
Mastering Philip Granqvist
Cover art Emilia Pennanen
Ocelot Music Videos from Unelmoi

Some related press words
"They have a late night lying on your bed feeling the summer breeze gently caressing your radio dial type of vibe about them. They have this pop malarkey well sussed no doubt about it; soulful melodious and beautiful." Monolith Cocktail
"Unelmoi EP proves Ocelot to be a skilled and unique band. Its home-grown but visionary interpretation of the California softrock sound is reminiscent of contemporary American names like Whitney and Drugdealer" Kulttuuritoimitus
"Unelmoi is an imaginative journey into a summer landscape painting, within which there is time to dream." Voima
"Ocelot make wonderfully whimsical and strangely challenging pop music" Päivän Biisit
"…the release is a less than 20-minute dose of emotional roller coaster, bright pop and juicy curvy rhythm lines" Desibeli
Unelmoi EP featured via Niche Music's Discovery feature
"To put it bluntly, Ocelot are different. For some people the gap between normality and what they write is too big to bridge. For others it presents a challenge to be relished. I'm quite happy to count myself in the latter category." Nordic Music Review

"Finnish outfit bring the same bright tones as Eels to this fresh and upbeat new offering" Mystic Sons

"I love the stand-up piano intro, the lala la las, the high pitched vocals and the delicious melody. It all builds to an fantastic climax and then…it's gone!" SWIT
"The most interesting Finnish band of 2020  – Ocelot release a new ep" Rumba
---
Ocelot Bio
Ocelot are a power trio based in Helsinki. The band started as the solo project of Emilia Pennanen (Dinosauruxia) in 2016 and has since taken various shapes and consisted of different members. The current configuration got together for the first time in the fall of 2019. Musically the band could be described as "unconventional alternative pop rock". The music is based on piano, bass, drums and some fairly extraordinary vocals. With these musical building blocks the band creates an intense and alluring atmosphere.
In the spring of 2019 Ocelot released their first EP called "Mä voin ottaa sun ikävän pois" (Soliti, 2019).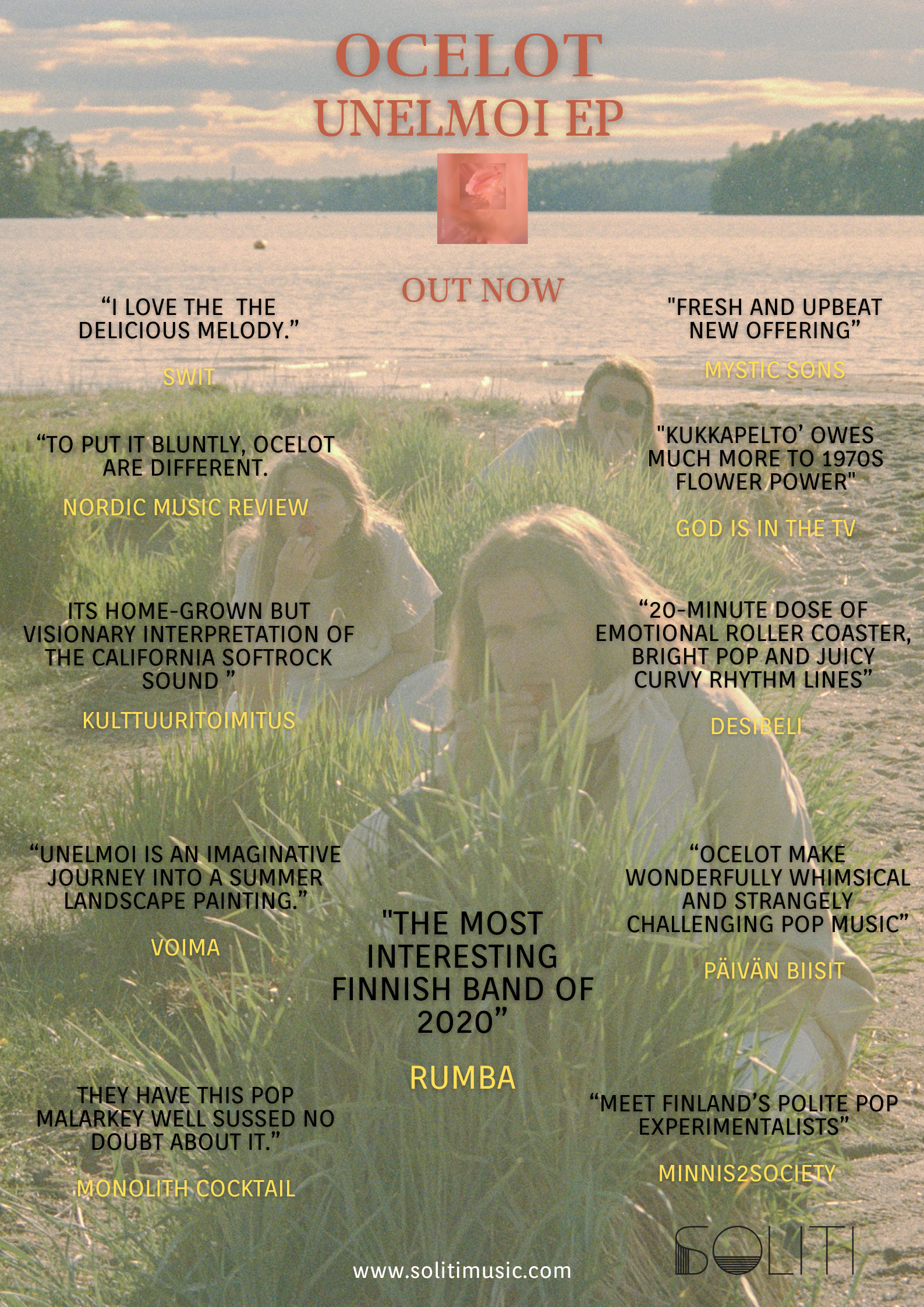 #solitiisten