The fully realised brilliance of  Was Not Looking for Magic was worth the wait

Soliti is proud to share the fourth Black Twig record.
Black Twig discuss Was Not Looking for Magic
"The album was quite a while in the making, with the first recording sessions dating back to summer of 2017. Luckily we were able to take our time and make the record without any external pressure. We think it shows in the songs, which are richer than before, with more keyboards and acoustic instruments. In the end 2020 was a good time to finish the album, and we feel the lyrical themes haven't aged at all. They deal with both private/personal and wider, social and sometimes even political themes."
This album will be the last one with our original/founding guitarist Janne Vainikainen, who's otherworldly guitar work you can hear all over the album. Janne also let us use his amazing digital drawings as the cover art. This is also our first recording with our new drummer Rasmus Rantanen, who contributed a lot, not only to the rhythm section, but to the overall arrangements too. As a whole, this was even more of a joint effort from the band than the previous albums: "everyone played everything" (almost)."
Initial reaction
"…allowing the song's to sort of meld together into a great collection of well written guitar pop tunes. I mentioned Felt, and I do think there are some similarities, particularly in the way that both bands manage to craft delicate guitar work and pop accessibility into cohesive listens. I promise you, if that's anywhere up your alley, come back for those repeat listens." Track by track review via Austin Town Hall
"Listen to the warm, matured, and jangly sound of Finland's Black Twig" an Interview via Minnis2Society
"Was Not Looking For Magic, released on Friday, is certainly one of the best Finnish indie albums in a few years." Päivän Biisit
"Apparently they weren't looking for magic, but they found it. RIYL Felt, Tracy Bryant, Razorcuts." Add To Wantlist
"Today, Black Twig can be considered an old-fashioned band. It does not utilize modern technology and synthetic sounds in its music, but relies on the power of electric guitars in its sound. And the guitars play wonderfully, forming carefully designed arpeggio harmonies." Kulttuuritoimitus
"…the reality is that the full album surpasses our expectations. New influences supplement the old, with current comparisons tending towards Teenage Fanclub and Sonic Youth. Cue up Was Not Looking For Magic and you are treated to the shoegaze of "New Moon", the jangle pop of "Outdoor Blues" and instrumental "Puuhastelu", the moodier guitar pop of "Typical Winters Day" and "Walking Up A Hill", and the robust album closer "You Never Were Mine".  And album opener "I Was Not Looking For Magic" is a perfect bookend companion for showcase track "Black Cat". WYMA
"Individual songs have never been the core of a Black Twig album, they have been a part of a larger entity, so that even the smallest variations sound relevant …Was Not Looking for Magic has the distinctive Black Twig sound with noisy guitars and shoegaze. Compared to the previous albums this one is a bit more striking" Soundi 4/5
"seems destined to be one of my favourite records of the year" it starts with a birthstone
"The band sounds both traditional and timeless. They swim effortlessly along in the stream of the recent international neo-psychedelic rock movement….Black Twig has melded their influences into a natural whole." Suomen Kuvalehti
---
I Was Not Looking for Magic
Outdoor Blues
Devils Please Be Gone
Walking Up a Hill
Puuhastelu
Moon Song
Typical Winter's Day
Animal Drawing
Big Cat
You Never Were Mine
The band was:
Aki Pohjankyrö: Vocals, guitars
Rasmus Rantanen: Drums, percussions, keyboards, guitars
Kaarlo Stauffer: Bass, guitars, keyboards
Janne Vainikainen: Guitars
Composed by: Aki Pohjankyrö, Rasmus Rantanen, Kaarlo Stauffer, Janne Vainikainen
Arranged by: Aki Pohjankyrö, Rasmus Rantanen, Kaarlo Stauffer, Janne Vainikainen
Lyrics by: Aki Pohjankyrö
Cover Art: Janne Vainikainen
Recorded and mixed by Aki Pohjankyrö
Mastered by Jari Suominen
Produced by Black Twig
Recorded during 2017-2020 at Pikkupurontie and Eerikinkatu.
Praise for Black Twig singles 'Devils Please Be Gone' and 'Big Cat'
"This is a lovely warm sounding single: catchy great guitar riff, well-sung, good lyrics and a fine melody. What more can I say apart from give it a listen." Monolith Cocktail 
"国内のイケてるバンドを数多く輩出する良質レーベルの中でも特に好きなバンドの約5年振りの新曲。とても嬉しいです。しかも2/26にニューアルバム『Was Not Looking for Magic』を発売します。" Niche Music
"…the wonderfully laid back single Devils Please Be Gone " Päivän Biisit
"As always with this four-piece, the guitars are magnificent in this worthy beginning to a new chapter for the band." WYMA
"Welcome back to Black Twig, you were already very missed." Desibeli
"They mix the monotonic with interesting and unexpected elements and a dynamic arrangement that keeps the listener's ears pricked through the song." Tinsel Music Magazine
"Pair with FunkO's Cuphead" Cereal Sounds
"This is one of those instantly clinging tunes you want to hear when you get up in the morning, under the shower, in the car, at work, and actually everywhere. Jangly guitars à la The Byrds and feel-good poppiness à la Teenage Fanclub." TURN UP THE VOLUME
"This is a catchy pop song at heart, which really opens up in the chorus with a melody that will get inside your head on 1st listen. They also seem to hold back on their 'noisier' instincts until towards the end, when they just really let go with a thunderous guitar solo and a bucket load of fuzz" Nordic Music Review
"Black Twig, who channel a college radio-aged R.E.M. on "Big Cat"… the quartet rightfully ask, "How can we fight all this evil that we see?", they encourage us to find the motivation and courage to look people in the eye, like "a great big cat", and learn to trust a stranger despite our differences. Once we can come together, then we can right the world. If we don't, then the "fascists will rise if we don't fight" The Revue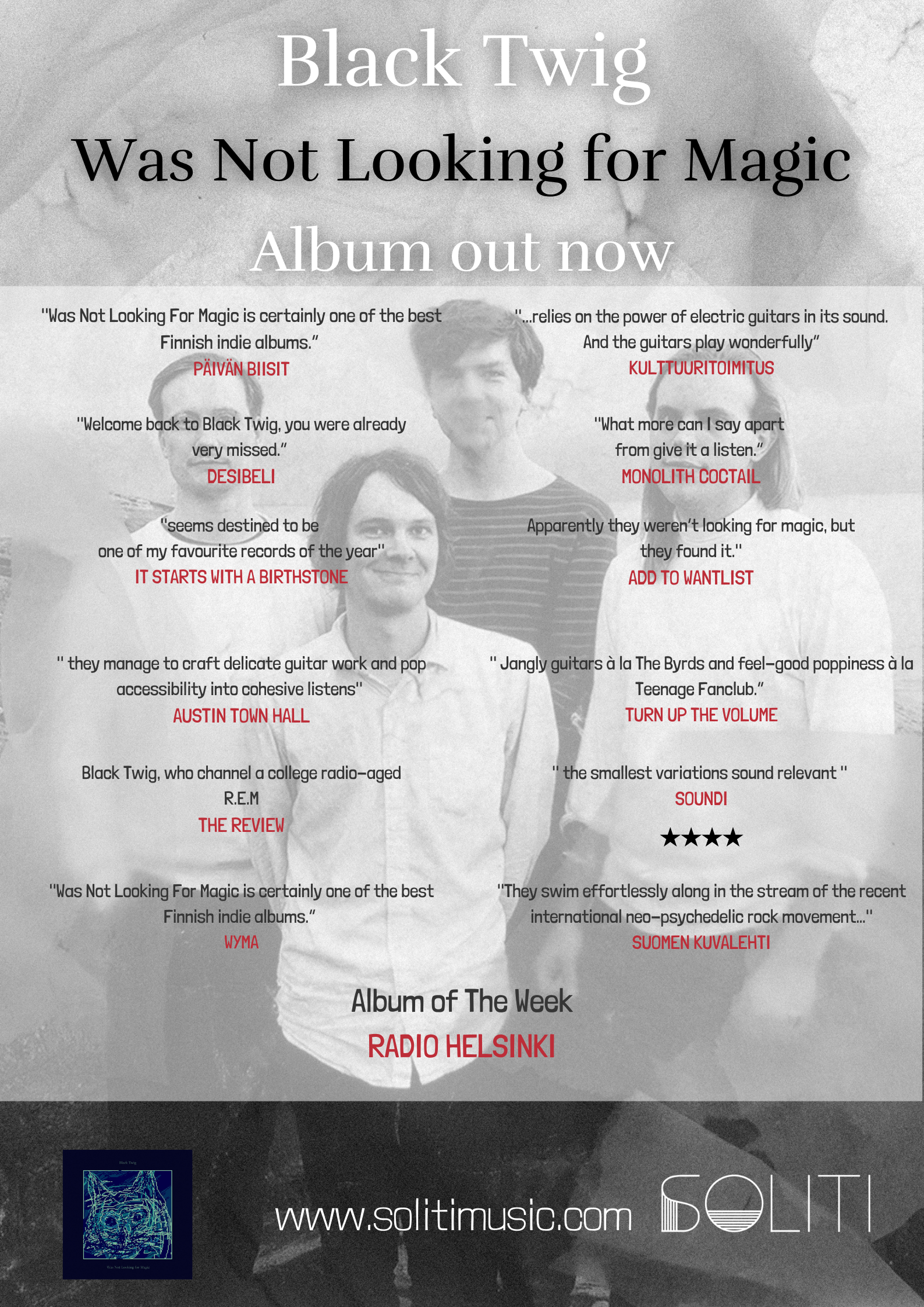 Brief Bio
Black Twig's love for melodic but noisy guitar music has endeared them to fans home and abroad. Emma nominations (Finnish Grammys), Japanese and Europe wide releases for their music, European shows and setting a high standard for domestic indie-rock means a sense of excitement surrounding the band's first new music in five years.
Black Twig online