D/other is the follow-up to Teosto prize winning album From The Bed & Beyond
D/other
finds
Astrid Swan
writing about motherhood, dreaming and sleeping – realising her most complete and personal musical statement yet. Composed over the course of the last five years, the stories Swan tells over the 10 songs of
D/other
cover themes of dream-states, mothering, loss, creativity, digital vs analog, feminism and relationships.
D/other
was produced by Swan herself. Her long time collaborator
Mikael Hakkarainen
recorded and mixed the album. Along with Hakkarainen and Swan's trusted musical partners
Alina Toivanen, Veli Kauppinen
and
Johannes Salomaa
, the Canadian visionary
Owen Pallett
performs and arranges the strings for
D/other
.
"I set out to write about mothering, being a daughter and a mother. I was informed by the simultaneous research process for my PhD which investigates maternal life writing in blogs and memoirs. The title D/other comes from this research. It is a mother/daughter in digital form, and as a trans-affirmative concept which argues that mothering is done by anyone who cares.In the music I wanted to explore sleeping and dreaming as states of unconsciousness which connect us to each other, to those who are dead and that which is in the future. I wanted to explore the logic of the liminal and intra-active, that which slides and transforms. In song writing I focused on clear, comforting and uplifting lines, kind of as always, trying to crystallize what I do melodically. In this case the lyrical depths are presented in comforting pop structures." Astrid Swan 2021
Initial Reaction
"Deeply touching LP from award winning performer" – Mojo
"The album is beautifully raw, combining pop and poetic storytelling to uncover the beautiful interplay between life and death". – Noctis Magazine
"D/other is not hit music, but something deeper that requires concentration. Beautiful and warm reflections on life from a sunset perspective." 4.5/5 Kulttuuritoimitus
"…an excellent album and her explorations into the themes of motherhood are extensive and interesting" 4/5 R&R Magazine
"Swan seems to have realized some significant things, the most important of which is probably living in the moment, because there is nothing else we really have. And often we don't even need anything else to get really close to the essentials." Desibeli 4/5
"Freedom and inspiration can be heard from the effortless arcs of the compositions, which Swan interprets in a heartfelt and straightforward way." Soundi 4/5
"There's a warm comforting feel to many of her songs" Big Issue North
"The D/other album, is once again a touching, comforting and artistic masterpiece." Päivän Biisit
"While it is undoubtedly heartbreaking, Swan imbues the songs with positivity and not a small amount of oomph" Daily Express
"With D/other, a spectrum of emotions and experiences is gathered." Album feature via Yle Svenska
"The artist returns after five years with ten personal and poetic songs" Sydsvenskan
"…it consists of ten songs that feature literate and poetic storytelling and Swan's compelling vocals. Swan's dramatic vocals are well-matched by the fulsome arrangements, highlighted by Swan's piano, rich details and polished production. Don't miss this album, it is absolutely terrific." WYMA
"D/other is not your usual pop album, brimming with bouncy melodies and vibrant energy. Instead, Astrid Swan presents lustrous flows of innovative pop amalgamated with cashmere art-pop savors." The Young Folks 8/10
"…her creativity seemingly knows no bounds, as evidenced by this substantial, cautious yet adventurous body of work. "  Take Effect 8/1o
"…the album touches on great themes and is Astrid Swan's most personal work to date" Rumba
"Such a special and powerful album that moves me deeply. There's darkness but it's overshadowed by humanity and light. A beautiful album." Best albums of 2021 via One Chord To Another
"Astrid Swan's new album is really special and among my favorite Finnish releases of the year." One Chord to Another
"Astrid's performance has a strong effect on the audience, which makes sense because of the energy she puts into it." Lefuturewave
"'D/other' is set to become yet another highly-praised collection in her growing catalogue to date" Music Crowns
"The light and effervescent energy of her music creates a fresh and vivid alt-pop direction that compliments not only her sublime songwriting, but her bold and sweeping voice as well." Beehive Candy
"…which leads us to believe that the whole of the album will be filled with more charm than we can handle" Austin Town Hall
"A journey that reminds you that time and life are precious." Higher Plain Music
"A great artist is one whose music is filled with truth. That transparency you seek as they tell their story, in a way that connects with your own life. That type of soul in the artistry is why music is leaned upon, during our trying times. That type of truth and soul is what blooms about Astrid Swan's new song "Luxuries" Honk Magazine
"..this song (Luxuries) is hauntingly beautiful with an overflowing heart, a giving soul and open arms. Swan's breathy vocals are timeless, the piano melody is earthily brilliant and the song itself will touch anyone with an open heart."

Listen With Monger
"…which once again demonstrates this incredible ability that Astrid has to write powerful, emotive songs that are also really accessible and easy to listen to – and that's not always easy to do" Nordic Watchlist
"Mixing a smooth and sweeping piano-led aesthetic with her rich and velvety voice, Finnish musician Astrid Swan's fresh and vibrant new single showcases exactly the kind of passion we can expect on her next studio LP" Purple Revolver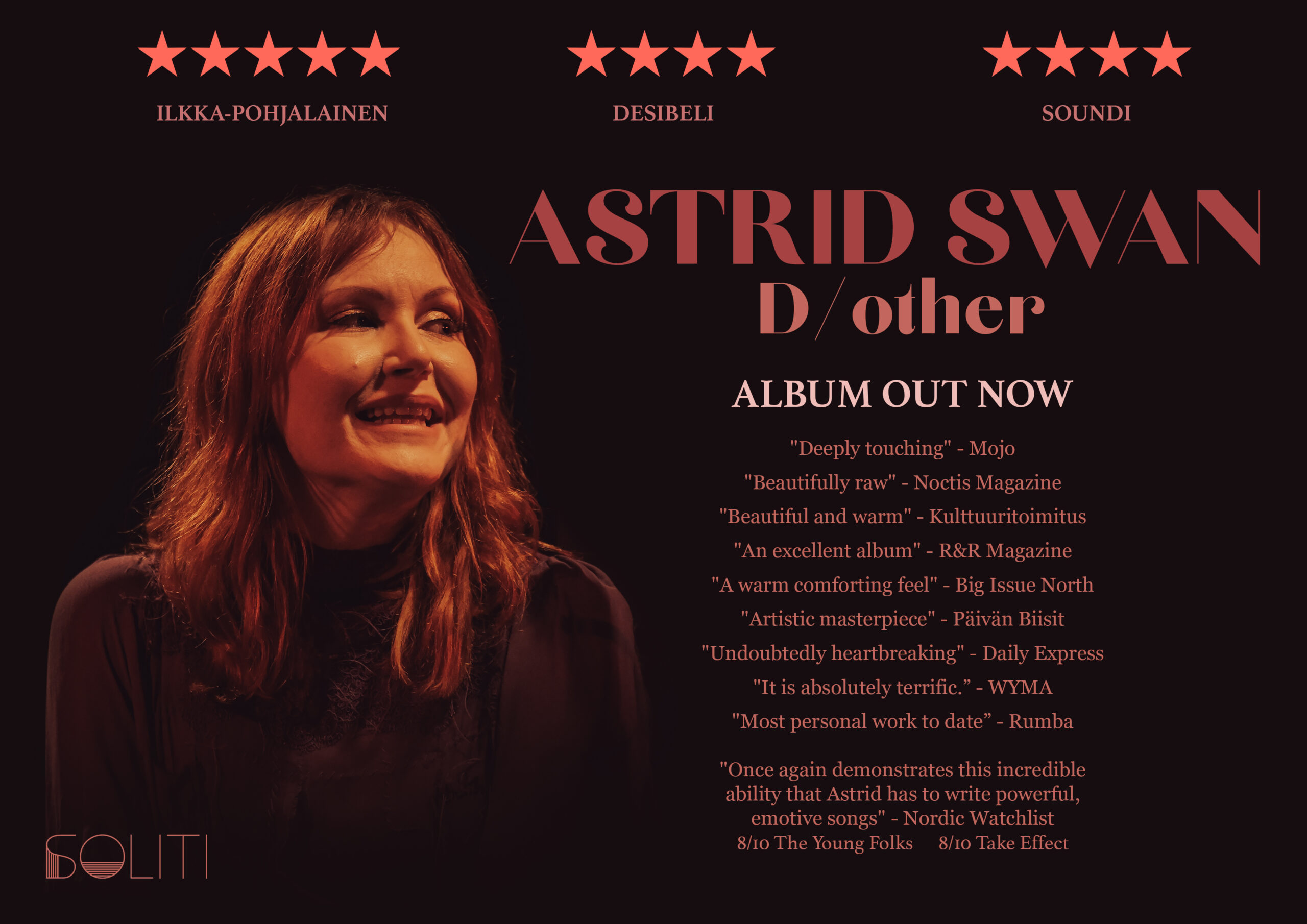 ---
ASTRID SWAN: D/OTHER (SOLITI 093)
RELEASE DATE: 08/10/2021. VINYL, CD, DIGITAL.
Buy/listen to D/other
Tracklist & credits

Drift
Silvi's Dream
Not Your Mom
True Love
Luxuries
Joking After the Apocalypse
In the Woods
Tragedy & Art
Rainbows
Daughter

Composition and lyrics: Astrid Swan
Vocals, bvs, piano, acoustic guitar – Astrid Swan
Guitars –Mikael Hakkarainen
Horns, keys – Johannes Salomaa
Drums – Alina Toivanen
Bass, bvs – Veli Kauppinen
Strings arranged and performed by Owen Pallett
Production: Astrid Swan
Recording: Mikael Hakkarainen
Additional recording: Astrid Swan
Mixing: Mikael Hakkarainen
Mastering: Philip Shaw Bova, Bova Lab Studio.
UPCOMING SHOWS
17.11.2021 Espoo, Sellosali
19.11.2021 Lahti, Sammiosali
25.11.2021 Helsinki, Malmitalo
11.12.2021 Lappeenranta, Nuijamies
26.1.2022 Oulu, Kulttuuritalo Valve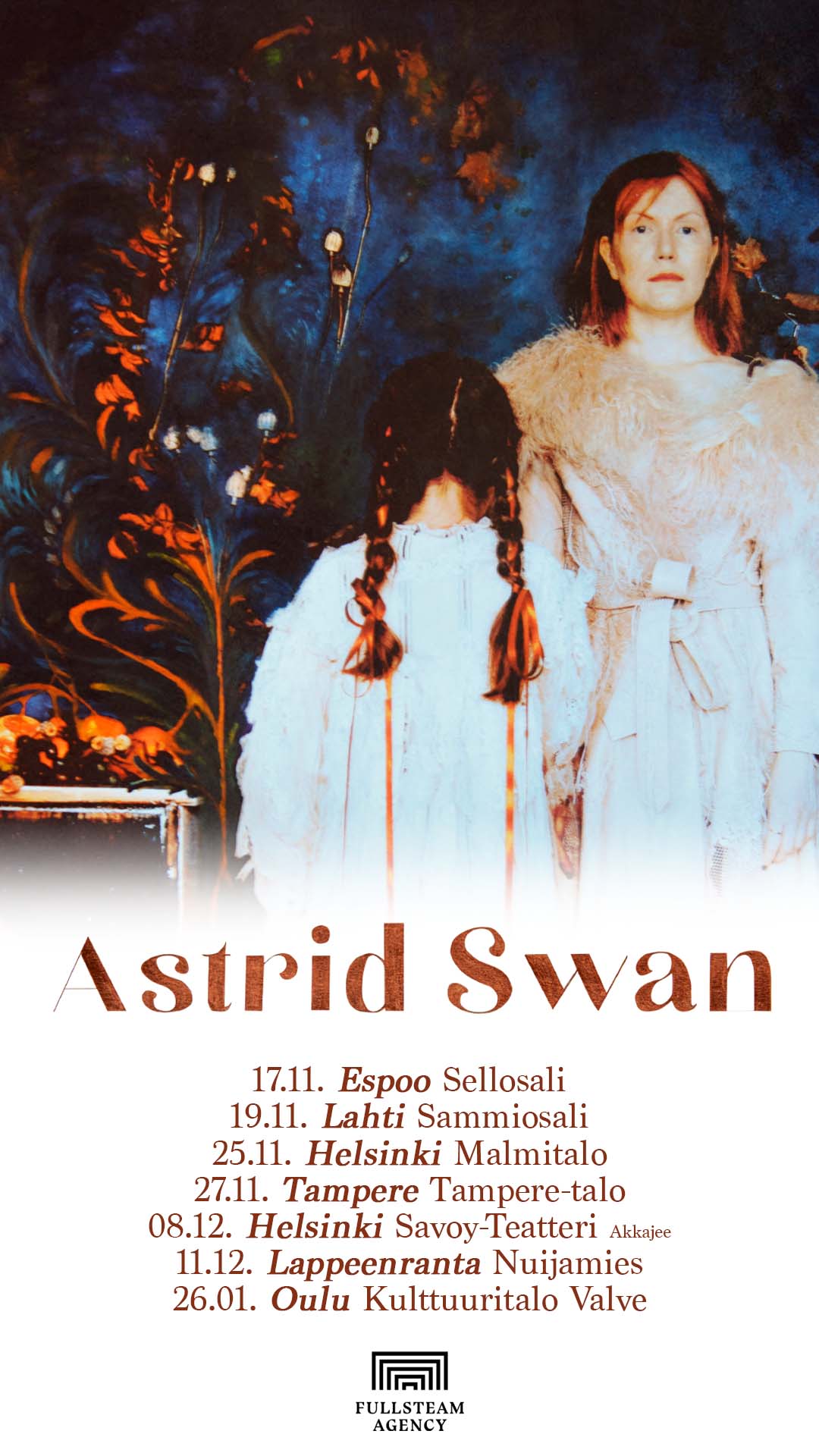 Astrid Swan bio:
Astrid Swan
is a songwriter, performer and a writer. Between 2005 and 2020 she has published six solo albums as well as a series of collaborative releases. Swan's solo albums have been released in Finland, USA, England, Germany and Scandinavia. Over the years she has performed her music on many tours in Europe and the USA. Her sixth solo album
From the Bed and Beyond
won the prestigious
Teosto Award  in 2018
. The album was shortlisted for the
Nordic Music Prize
and was also nominated at the
Emma Awards
(her second nomination for a Finnish Grammy.)
Swan's songs draw from the American songbook of singer/songwriters, blending pop structures with a cold weather poetry of the North. Accompanying herself with piano she exists on the precipice of pop and art. Her lyrics combine to strive for emotional accuracy with poetic storytelling. The result is the feeling of being comforted through hell. Swan writes, produces, records and mixes her music. Over the years Swan has collaborated with a diverse group of artists and creatives:
Jimi Tenor, Otto Donner, Emmi Kujanpää, Aamu Song, Nick Triani, Adel Abidin, Stina Koistinen, Owen Pallett, Koko Hubara, Timo Wright
. Her latest release was the
SWAN/KOISTINEN
EP (Soliti) from 2019, a collaboration with singer
Stina Koistinen (Color Dolor)
and the Canadian violinist/composer
Owen Pallett
. In April 2019 Swan published a memoir
Viimeinen kirjani.
The Finnish language essay collection touches on her personal experiences of mothering, artistic development, chronic illness – analysing them in the context and structures of feminism, whiteness, Finnish and American cultural confluence.
Watch Valreza Collective's "Luxuries" video
ABOAGORA "Fire" Symposium on 18 August 2021 found Astrid Swan in discussion with Professor Hanna Meretoja about the themes of D/other (album and thesis) – with Swan performing solo versions of songs from the album.

Solo Discography:
Poverina (2005) (Delphic/Minty Fresh/Soliti)
Spartan Picnic (2008) (Johanna Kustannus)
Better Than Wages (2009) (Johanna Kustannus)
Hits (Pavement for Girls) (2011) (Soliti)
Astrid4 (2014) (Soliti)
From the Bed and Beyond (2017) (Soliti)

Astrid Swan Online
Webpage
Twitter
Instagram
spotify