A round-up of all things Soliti in 2022

2022 felt like a slow slide back to normality post-pandemic. The effects have still been felt within Finnish music environs and further afield (ps. it's not over yet). We've had a genuine European war to contend with and most people having to face up to harder economic realities. Despite such turmoil, Soliti decided to go full throttle with a bumper year of releases – something to offer balm, good feeling and at the least a distraction to the realities of life that can sometimes feel  all consuming.
In 2022 we introduced some new artists to the label – Lucy Lohan with their intense, international hip-hop inspired music, Team Play with their epic, dulcet duets and the hushed bedroom folk of Henna Emilia Hietamäki. Debut albums from Knife Girl and Ocelot arrived – whilst Ghosts on TV and Francis North were responsible for the first live album for the label. Pintandwefall and Stinako represented on-brand Soliti artists releasing new music with the usual tradition of quality we stand by the label delivering.
Behind the scenes of Soliti, salutations and greetings to the hard work of Christoffer, Teemu and Kerttu who kept the Soliti ship on course and in great fettle. The biggest and heartfelt thanks also to all our artists who in uncertain times continue to go the extra yard with bringing great music to the label. We give you big virtual hugs for the inspiration and believing in us. Everyone who listened to, bought records, shared music, wrote about, booked shows, played on the radio and generally bigged up our artists – we are indebted to you for spreading the word. Thank You.
Below you can find a summary of all the music Soliti released in 2022. What a year. Take care and see you on the other side of 22.
Triani x
---
All the singles released by Solitimusic in 2022 – featuring Pintandwefall, RULES, Lucy Lohan, Team Play, Francis North/Ghosts on TV, Henna Emilia Hietamaki, Knife Girl, Stinako, Astrid Swan and Ocelot.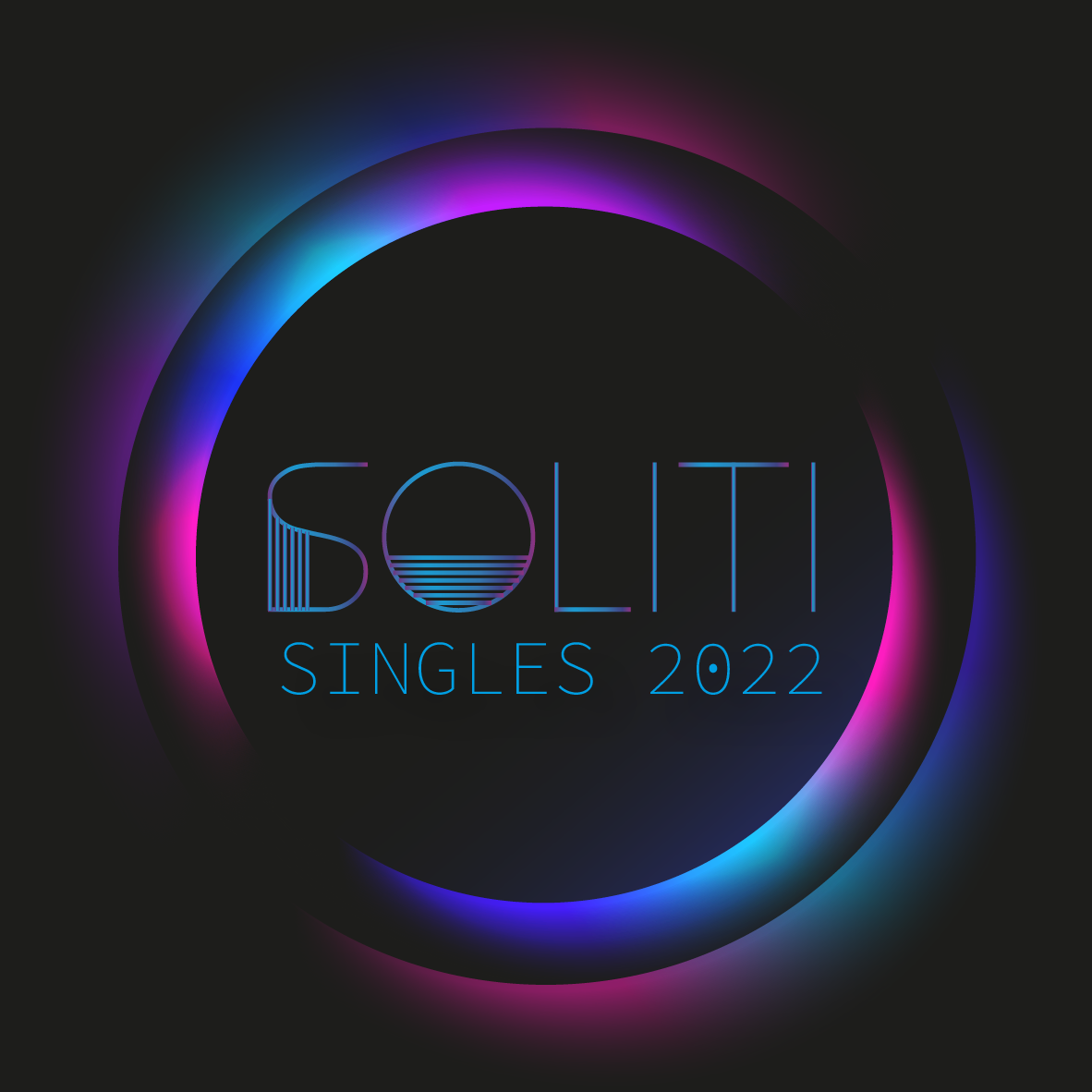 Singles playlist cover by Teemu Patrikainen
---
SOLITI VIDEOS PLAYLIST FOR 2022
Henna Emilia Hietamaki : Kulkuri. Directed by Tekla Valy
Stinako : Pelasta mut. Directed by Anna Brotkin
Stinako : Täyden Kuun Aikaan. Directed by Tiina Palm
Astrid Swan : In The Woods. Directed by Tekla Valy
---
SOLITI ALBUM & EP RELEASES 2022
PINTANDWEFALL: SEVENTH BABY (SOLITI 096) Released 25/02/2022
Pintandwefall tells us of Seventh Baby "We started sending each other demos after the pandemic started and our previous album tour got cut short, and a lot of the songs coincidentally dealt with different aspects of everyday life with an absurd twist to them. We recorded the album within a 6-day period during the hottest days of early July, and it ended up becoming more guitar-driven than our previous albums, with some soft shoegaze moods in the mix. We were and are especially hyped about working with Liisa Tani, aka Sir Liselot, on this album, and her energy and unique touch can be heard throughout the songs. Also, it was about time to have an all female panel in the studio! We hope you will love listening to Seventh Baby as much as we loved making it <3″ Read More
When You motor Away "The result is a shoegazey guitar pop with wit, sensitivity, hooks, and plenty of muscle. An album this good deserves to be heard by many people."
Levyhyllyt/Musiikkikirjastot "Inherent development cannot be learned, but fortunately Pintandwefall has been able to retain its distinctive personality."
Nordic Music Review "Indie guitar pop (if that's what it is) doesn't get a lot better than this, with 'Seventh Baby' packed full of tunes, twists and turns from start to finish."
Nordic Music Central "Sometimes I think there's nothing these ladies couldn't do if they put their mind to it."
---
FRANCIS NORTH X GHOSTS ON TV : ENTROPY (LIVE AT THE MUSIC THEATRE KAPSÄKKI) (SOLITI 097) Release date: 22.04.2022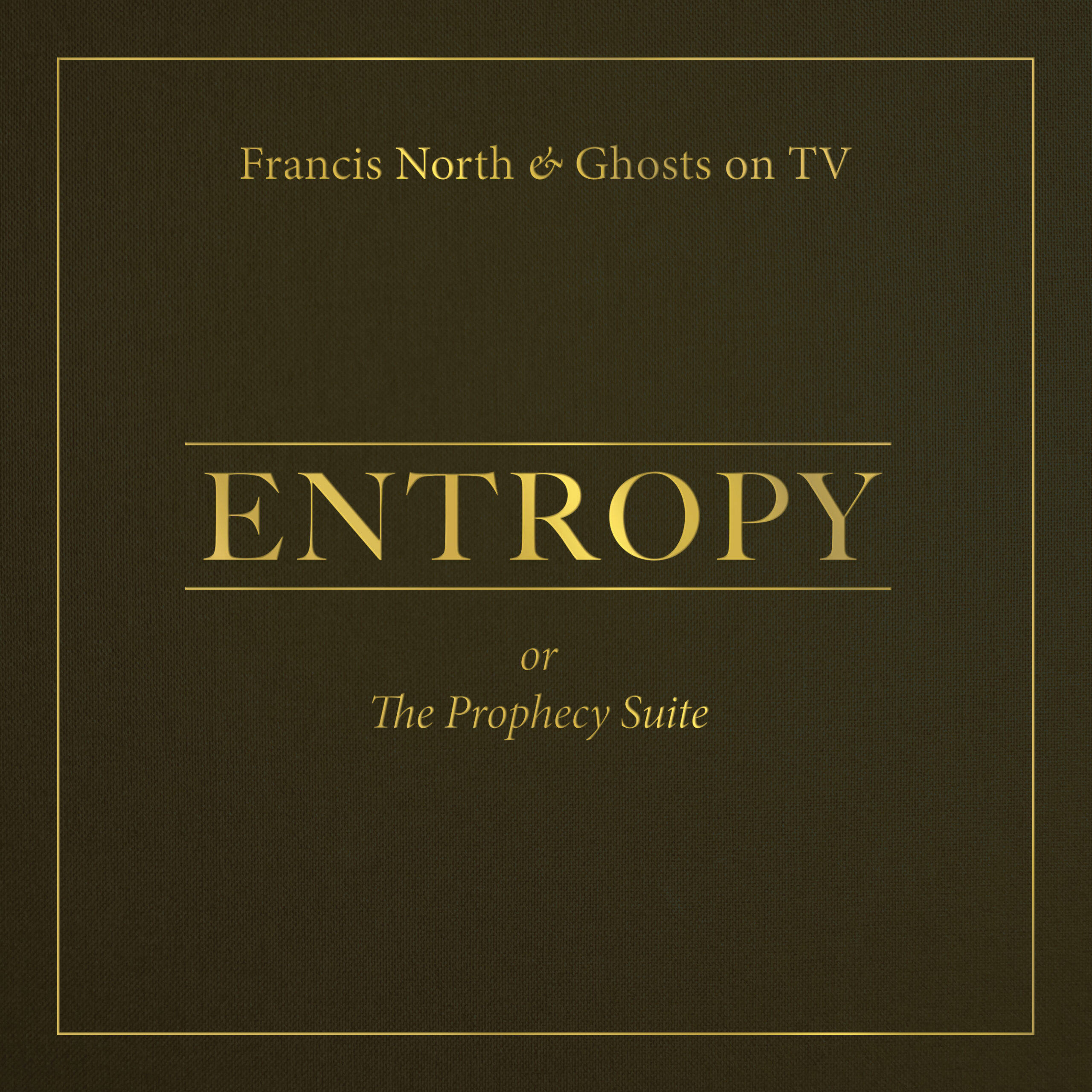 "I started working on the poem that ended up becoming Entropy some two years ago, on Anna's suggestion. I've wanted to work with GoTV ever since I first saw them live, so when we started planning the publication event I contacted the band asking if they'd be interested in a collaboration and luckily they we're. We managed to create something at the same time organic and unique, gentle and at times violent. The most fun I've had on stage has been with the band, and I'm very proud to see our creation take on yet another form as this live-album." – Francis North
"Spoken word, drone and post-rock have been combined many times, but reciting this whole poem live with the theatrical style of Francis created something new. While listening to this record you can focus on the story and let the music of Ghosts on TV create its own background for every chapter. Or you can think of this as a full-length Ghosts on TV album, where the visitor Francis is leading the way. The atmosphere at Kapsäkki was unique that night and we're really happy that this concert was recorded. Our producer Alec Havinmaa joined us on stage too and the chemistry between the band and Francis was amazing. Especially since we created all the music together only in three days before the gig." – Ghosts on TV. Read More
"Francis North and Ghosts on TV have co-created a great postrock/poem whose power does not depend on words or notes, but on something developed between them. How limitless music and words can be, as long as we remember to dream and let the arts speak to our hearts. All in all, a wonderful work." Desibeli
"Nordic Music Review Live Album of 2022? Well it'll be only one I probably write about, but this is as good as it gets." Nordic Music Review
"That's one of the best aspects of Entropy: North's poems and Ghosts on TV are a powerful symbiosis. Neither really steals the show, and I don't know which terms to go with, so seamlessly they go hand in hand." Olevinaan
---
LUCY LOHAN : GUNK EP (SOLITI 098) Release date:  13/05/2022
Lucy Lohan's GUNK EP retains minimalist focus – stripped down hip-hop with nods to hyperpop. Lohan recorded each track for GUNK in a new environment at various locations around the world; the EP was made in Amsterdam, Glasgow, London, and Paris on one big trip – featuring contributions from Sacriflex, Himera, Bloodyprada, Innsmouth, Kuru and Orchid. Read More
"A floating feeling in which the streamlined beats drip like the sky and the intersecting sound waves create a peaceful atmosphere despite all their movement and hurry" Desibeli
Päivän Biisit "…the ep is a pretty little pop bead."
---
TEAM PLAY – WISHES AND DESIRES (SOLITI 099) Released 03/06/2022
"With this debut album Team Play enters the new era of romanticism. Reaching from intimate and personal feelings kept inside to the all- binding myths, yearns, struggles, wishes and desires which we believe are common to experience and which really unite us. These are gothic hymns. Serving no gods or authorities but the human voice. We wanted to embrace the human voice. The contact and the harmony one can reach through singing. With the accompaniment of a soundscape that breathes with the vocals and the lyrics. We are happy to have people around us who took part in making and releasing this album and who share and understand these thoughts. We hope you can identify them as well through our songs." Read More
"There's always a soft spot in my heart for really moving pop music, such as you'll find in the debut album from Finland's Team Play…. I keep going back to "Foggy Night," which sparkles with this delicateness that seems unparalleled in the current climate" Austin Town Hall
"Mature and low-key" 4/5 KSML
"The album is at its most rewarding when you approach the songs individually as enjoyable mini-novels. Then the meanings of the music expand to their widest and the still images become a dark, lonely and beautiful whole." Soundi review + interview
"This is quite a beautiful album: the soundtrack of the unpeeling of a nighttime wish; the subtle crush of valonia, the strange bewitching aftertaste of your lover's kiss." Monolith Cocktail
---
HENNA EMILIA HIETAMÄKI – MAJA (SOLITI 100) Release date:  19.8.2022
Henna Emilia Hietamäki's Maja album is a pastoral vision; written, record, produced and mixed by Hietamäki – the central themes of the record lie very much in tune with the natural conditions in which the album was conceived. Maja was born in a small cabin in one of Helsinki's traditional cottage areas. With the soothing effect of the environment and the absence of electricity, Hietamäki focused on playing acoustic guitar and making even lighter and brighter music. In addition to composing a new kind of music, Hietamäki decided to produce the record herself. She recorded guitar and vocal tracks at her summer house using a travel solar panel, a laptop, and a small recording device. Afterwards, she recorded her own pianos and organ, as well as basses by Tytti Roto (Ty Roxy, Kissa) and drums by Hanna Perälä (Goo-Hags). In addition to recording, Hietamäki learned to mix. Read More
"Henna Emilia Hietamäki has built a softly humming and hypnotically flowing musical Maja , which has an unhurried, timeless and thought-provoking atmosphere inside. It is a musical place of relaxation within safe walls. There is always a place for that in a hectic world."Kulttuuritoimitus
"In particular, the instrumentals Vällilla tuulee and Vesihiisi are warm reminders of the peak years of domestic lo-fi folk in the 00s and an aesthetic that is rarely encountered today." HS
Henna Emilia Hietamäki profile via Suomen Kuvalehti
"The vibe she creates invokes those singer-songwriters; deep thinkers who were the diametric opposite of the five-minute wonder, 'famous for being famous' set that permeate the arts today. Indeed you don't have to try that hard when you listen to this track to be transported back to the late 1960s in California and the Haight-Ashbury counter-culturists who flocked to Monterey Pop to hear Janis Joplin and Laura Nyro." Nordic Music Central
---
KNIFE GIRL: UNIFORM (SOLITI 101) Release date 23.09.2022
Knife Girl describes Uniform as a more thought out songwriting process compared to other Knife Girl releases, a mature summation of the Knife Girl sound up to this point. Different lyrical themes mix with fun loving musicians who wanted to explore Knife Girl's more overtly rock inspirations. Uniform acts as a perfect balm to the often genre defying concepts that Knife Girl has forged with her career this far, a more refined and grand central statement. Read More
"Uniform's nine pieces burst with ideas, hooks and details almost to the point of breathlessness." 4/5 HS
"Uniform ripples in the same sonic underground as indie rock, with funk, pop, soul and electronic elements… a mix of danceable yet sometimes absurd experimentation." The Line of Best Fit
"Discussing important topics surrounding mental health, the LP is also a relatable and poignant listen that brings up subjects that are important for our discourse in today's world." Earmilk
"The work pulsates, sensitises and sways the bosom for nine tracks. Originality and versatility seem to spill over the record as they ride the rollercoaster Uniform paints." Radio Helsinki
---
STINAKO : GHOSTINA (SOLITI 102) Release date: 21.10.2022
Ghostina is the follow up to Stinako's much loved debut album Ikuisuus, which established Stinako in her own right and was nominated for the prestigious Nordic Music Prize. Of the themes of Ghostina Stina Koistinen (Stinako)  tells us: "Ghostina is a phantom living in the ruins of my memories. The album is a collection of songs grown out of those ruins, coming to life as they're sung and played by my beautiful band which consists of Tapio Viitasaari, Aili Järvelä, Mila Laine and myself. Memories are always partly true and partly invented by our minds. Ghostina is an alias of Stinako." Read More
"Stinako's second album, Ghostina (2022) flows into the listener's consciousness and pierces the being with its spirit as if looking at the dark water of a river flowing under fragile ice." Totuus
"The playing of Koistinen, Aili Järvelä, Mila Laine and Tapio Viitasaari and the brilliant production of Joonas Saikkonen make Ghostina multi-threaded and surprising. Electronic twists and string patterns that create chamber music atmospheres intertwine, and the border between synthetic and organic becomes blurred." Soundi 4/5
"The art-pop outburst that reaches dreamy colors does not leave a trace of Kate Bush's and Björk's ambitious takeovers". Ilkka-Pohjalainen 5/5
"So what's it worth? I'm not into awarding 10/10, I think I've only ever done it once before (Anna Calvi for 'Hunter'), but I will here and for two reasons. Firstly on the strength of two fabulous tracks, 'Ave Maria' and 'Pelasta mut', both supremely powerful in their own way and yet so different in their composition that it is hard to reconcile that they came from the same artist.Secondly, because Stinako is one of few solo artists across the entire Nordic spectrum who is consistently working at this creatively cutting edge level." 10/10 Nordic Music Central
---
OCELOT: AURINGON PUUTARHA (SOLITI 103) Release date 25.11.2022
The debut album from Ocelot, Auringon puutarha features nine dreamy explorations in left field storytelling and sonic adventurism. "Auringon puutarha is about a fantasy, both beautiful, naive and disillusioned. It is an album about studying a distant place closely, about obsessing over a life that is out of reach, it is an album about watching and consuming a main character and confusing oneself with them." Read More
"The debut album from Finnish experimental Pop outfit Ocelot is a thing of summery beauty! Songs such as 'Fire Season' sound like a band that could have come out of Liverpool in 1979 – think Pink Military Stand Alone crossed with early Teardrop Explodes organ driven pop!" Monolith Cocktail
"It's also telling that the story of the film city of yesteryear is the first single and the opening track of the album. There are shadows and levels in the dream factory, and even the most cunning wizard can't guess all the plot twists." Desibeli
"Making us see their strong inspiration in everything that surrounds the most ambient pop of the 60s, along with all those flashes typical of a collected and analog psychedelic format, the trio has been showing us over the last two years the appeasing power of their music" Mindies
"Ocelot still makes perhaps the most original music in Finland!" Rumba
---
End of year lists coming soon…