'Hot Dog' is the first music from forthcoming debut album Peace & Love. 

Pink Chameleons return with their first new music since their 2019 released Songs EP. New song 'Hot Dog' arrives with the announcement of the debut Pink Chameleons album;  Peace & Love will be released via Soliti on the 21st May 2021.
"'Hot Dog' is a "short 'n' sweet" garage rock number. It works great as a soundtrack for eating hot dogs too. We prefer vegetarian ones but the choice is yours! Originally we were planning to have a release party for the single with a public hot dog eating competition with "Hot Dog" playing in loop in the background. Unfortunately that is another dream crushed and obviously it didn't work out."  Pink Chameleons tell us
Watch Hot Dog


Video by Paltsa & Krista Salama
Actor: Buio The Dog
Paltsa-Kai Salama – Vocals, guitars, organ
Antti Sauli – Bass
Kimmo Godtfredsen – Drums
Recorded by Teemu Hietaniemi, overdubs by Paltsa Salama
Mixing: Paltsa-Kai Salama
Mastering: Jari Suominen
Music/lyrics Paltsa-Kai Salama
Arranged by Pink Chameleons
We had a great idea, that because the song is called "Hot Dog", there should be a dog eating a hot dog in the video. And that's just what we did. The dog with magnificent acting skills is called Buio and we were proud to have him in the video. During the shooting he really seemed to enjoy himself with all the hot dogs and treats we gave him. After the filming was done, we celebrated with Buio by going for an extra-long walk in the forest." Paltsa-Kai from Pink Chameleons.  Disclaimer: During filming no dogs were harmed or fed spicy foods.
'Hot Dog' is officially out now – listen via the service of your choice
Initial reaction
 "It's all fuzzy riffs and nods to power pop hooks that leave you with anthemic sing-along choruses you won't get out of your head. " Austin Town Hall

" Garage paukkaa tuttuun tapaan, eikä sinkulle kerry mittaa kuin hädin tuskin kaksi minuuttia, mutta oleellinen kyllä välittyy siinäkin ajassa." Desibeli.net
give the video a first view via RUMBA
"Helsinki based threesome who rumble through the inteNsity that the best of garage fuzz has to offer, whilst allowing the slightest melodic intent to just about permeate the surface. Glorious fuzz !" Jangle Pop Hub
"Rokkiosastolla aina mainio Pink Chameleons julkaisi ihanan kellarirallin Hot Dog" Päivän Biisit
---
Pink Chameleons : Peace & Love (Soliti 089) Release date: 21st May 2021
1. Death By Bliss
2. Dead End Life
3. Run And Hide
4. Spacedog
5. Hot Dog
6. Horsewalk
7. Pink Crush
8. Dog
9. Slow Me
10. Rainy Days
Paltsa-Kai Salama – Vocals, guitars, keyboards
Antti Sauli – Bass
Kimmo Godtfredsen – Drums, percussion
Backing vocals on "Run and Hide" by Tytti Roto
Saxophone on "Pink Crush" and "Slow Me" by Jussi Hurskainen
Backing vocals on "Hot Dog" by Joni Seppänen
Music/lyrics Paltsa-Kai Salama
Music arranged by Pink Chameleons
Recorded by Teemu Hietaniemi, overdubs by Harri Homi and Paltsa-Kai Salama
Mixed by: Paltsa-Kai Salama
Mastered by: Jari Suominen
Cover art by HONK!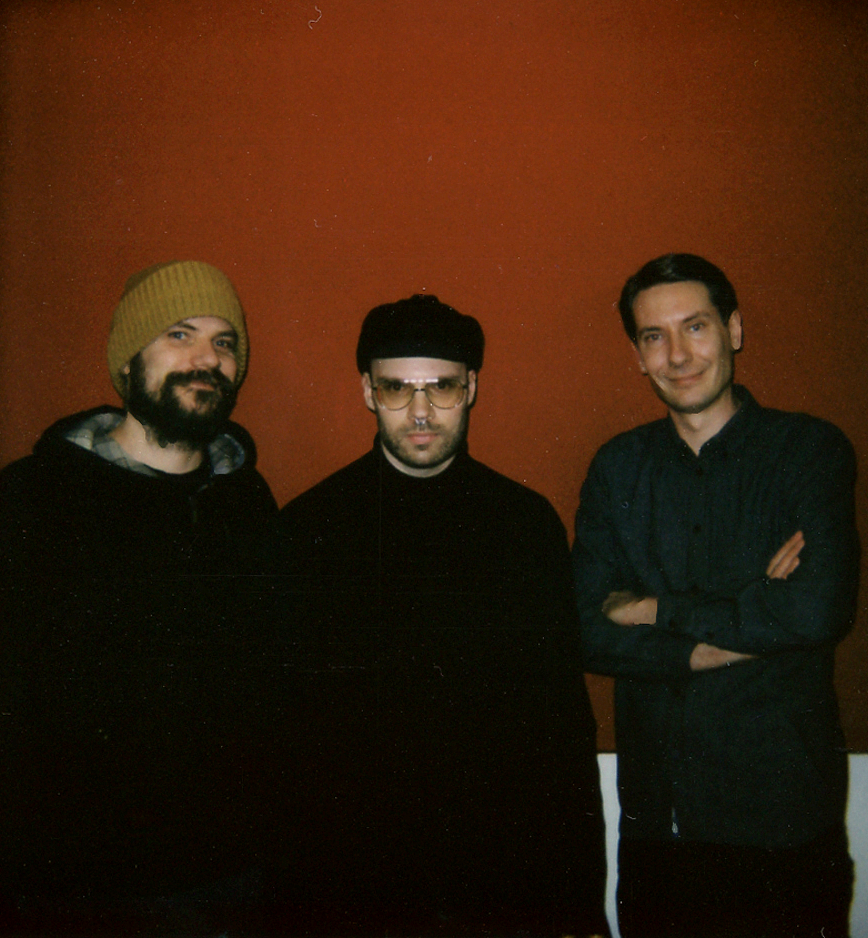 Pink Chameleons photo by Julia Brungs
Praise for Songs EP
"they seem to be honing their craft before your very ears, flirting with the edges of everything you love." Austin Town Hall
"The band advises that their interests include country and gospel, so we eagerly await future recordings. But for now, this one is a winner."  When You Motor Away
"Modern Garage band rock n roll, what's not to like?"  Monolith Cocktail
"Paltsa-Kai Salama 's new line-up has taken over the smoky garage and blues rock with astonishing strength."  Desibeli
"The songs hook you without compromise, whether it's a mesmerizingly mournful psych garage rock cut or an ethereal ballad, such as 'Reach Out'"" Soundi
"some gloriously crackling jingly garage blues disturbance with a spooky and creepy David Lynch effect."  Turn Up The Volume
"I just love the sound of the guitars, with an earthy psychedelic rawness, and it just drives forward relentlessly"  Nordic Music Review

Pink Chameleons are
Paltsa-Kai Salama – Vocals, guitars
Antti Sauli – Bass
Kimmo Godtfredsen – Drums
Social media