Debut EP release 'Metro' out 2nd July 2021
Knife Girl
is the new project from 20 year old
Lili Aslo
, who some may know from a series of releases and collaborations under the moniker
olli
over the past five or so years.
The first new music from Knife Girl comes in the form of single
"give it 2 yu"
which is officially released on the
4th June 2021
.
Knife Girl describes the song "For the sound of this track I took inspiration from various disco-funk records from the 1980's. Lyrically it's a parody of the sexual and objectifying lyrics you would often find in those records.
"
Initial reaction
"With electric production and an eclectic range of instruments culminating in a dance-worthy sound, the producer blends deep disco vocals and sickly sweet meoldies in a turly complimentary manner. And, with playfully suggestive lyrics standing as a parody of the 80s genre, the song is both sonically impeccable and witty in nature." Wonderland Magazine
"…it'll have you feeling retro disco vibes with its bright synths and catchy hooks. The deeper vocals give the song an 80s house spin too and adds to its irresistible dance nature." Abduction Radiation
"Knife Girl's perfectly goofy and stylistically brave new single " Loudness
Knife Girl were featured at Niche Music "'Give It 2 Yu'は7/2発売のデビューEP『Metro』収録曲。これまでの中毒性のあるポップ加減は保ちつつ、ベッドルーム感のあるプロダクションからより洗練された音像で最高ですね。音のアプローチが豊富な人なので他の曲も楽しみだなー。"
"Knife Girl brings a sharp, well-chiseled brand of licked alternative pop to the table." Sodwee 
"Playful witty, two-handed disco-pop, this is a groovy deconstruction of electro-pop and funk-pop is ripe with floor-filling, dappling synths. It somehow dissects the line between Right Said Fred and Cameo; it's sure to put a grin on your face!" God Is In the TV (Tracks of the week)
"After one listen you are charmed, after two times you are already dancing along and after three times you are already singing along with all your heart. Strong debut, that much is certain." Dansende Beren
"Awesome 80's/Prince / bedroom disco" Päivän Biisit
"An excellent excuse to get acquainted with her work" Mishka DJ
"give it 2 yu" sounds like an 80s disco banger," 3fach
Nuori suomalaisartisti tekee parodiaa 80-luvun diskolevyjen rasvaisista sanoituksista – Rumba
---
Along with news of 'give it 2 you' Knife Girl announces her debut EP release
Metro
which arrives via Soliti on
2nd July 2021
. The
Metro EP
redefines the bedroom pop sound of previous material released under the olli moniker – ambient experimentation makes way for deep grooves and catchy top lines. Knife Girl tells us of the EP "I've compiled some songs I recorded at home the past year for this EP. Some are more goofy than others, but they all represent some part of me." 
Knife Girl : Metro EP (Soliti 090) Release date 2nd July 2021

Metro
give it 2 yu
How U Really Feel
in Da summer
if you leave me now
Metro (Radio Mix)
Written by: Knife Girl
Vocal Arrangement by: Knife Girl
Produced by: Knife Girl
Performed by: Knife Girl
Mixed by: Knife Girl
Mastered by Philip Granqvist
EP Cover by Noah Wingren
Promo pictures of Knife Girl by Emilia Pennanen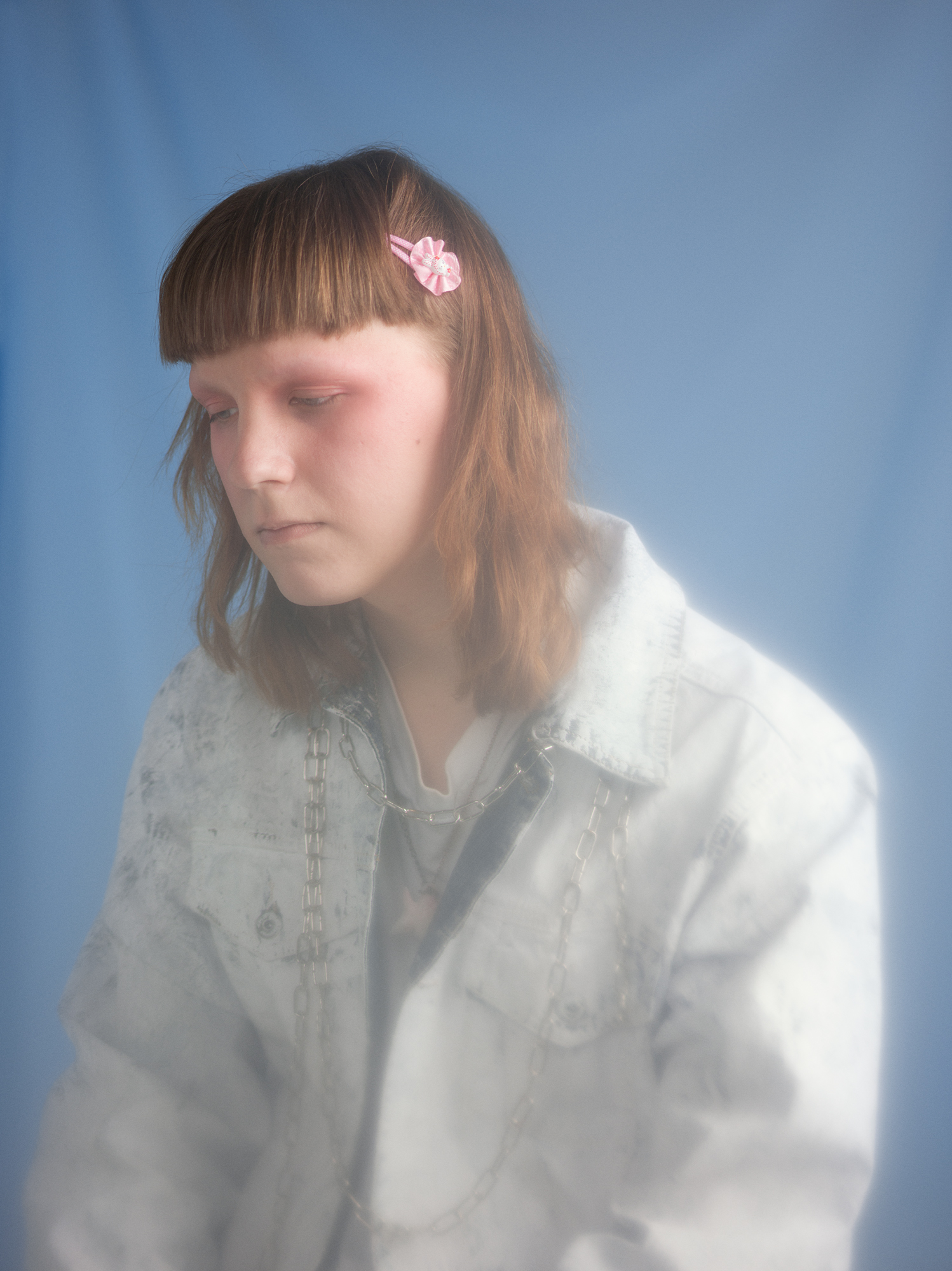 Knife Girl bio

Knife Girl is 20 year old Lili Aslo, formerly known by the artist name "olli"; Lili produces instrumentals full of sonic character, with particular attention paid to capturing authentic, organic feelings. As a songwriter she has been called a musical chameleon, able to adapt her style as necessary to different trends and audiences. Aslo isn't shy to boast her own successful music career either, already catching the ears of millions on her SoundCloud at the young age of 15 years old, having since gone on to collaborate with known musicians such as
Ryan Hemsworth
,
Blackbear
,
In Love With A Ghost
, and
Daniela Andrade
.