The wonderful new album from Cats Of Transnistria is out today, 2nd February 2018.
Cats of Transnistria's second full length album Opium is out now – available through all digital services and CD .
Listen/download from the following selected outlets:
Spotify
iTunes
Deezer
TIDAL
Amazon.com
Bandcamp
Soliti
Google
Levykauppa Äx (CD)
Upcoming live shows for Cats Of Transnistria
10.2. Alakultturitalo (Record release party) w/ Junnu Alajuuma, Ko:mi
14.03. Tavastia with Viitasen Piia and Lau Nau
Advance word for Opium and related singles has been more than exciting
"They're stretching the boundaries of pop music, carefully plotting each note and change of tone…aided on this effort by the presence of violinist Sanna Komi. While I find the entirety of the record stunning…lose yourself in this listen" Austin Town Hall
"The result is deep, swirling and cinematic songs that unfurl at a stately pace, capturing the listener's attention with beauty, exquisite detail, and the promise of continuing sonic discovery. The eight tracks are simultaneously haunting and soothing. We can't stop playing it, and we don't think you will be able to stop either." When You Motor Away
"We gently pull ourselves into a maelstrom, down into velvety depths. It may be that Edgar Allen Poe today would prefer to listen to Cats Of Transnistria! " 5/6 Nordische-musik
"If you like to revel (and endure the sweet pain), this album will reward you with rewarding hours." Amusio
Praise for first single 'Love'
"Tuomas Alatalo's anxious, stripped-back guitar rhythm provides the only solid foothold here, as slowly, layer on layer of Henna Hietamäki's siren vocals pull us out, to sink deep down to somewhere only she's been. 'Love' beautifully depicts its subject musically and lyrically, playing on its unattainability and treachery and the illusion of love.The addition of Sanna Komi's subtle violin textures greatly broadens the scope of their sound, recalling the spectral arrangements of late 80's 4AD bands like This Mortal Coil and His Name Is Alive." Ja Ja Ja Music

"A celestial indie treasure from 2017." One Quart Magazine
"This is a fantastic piece of work that will be high on the end of year lists" SWIT
Praise for second single 'Candy Man'
"Candy Man might well be the Helsinki trio's most powerfully compelling work to-date, a steady but swelling six-and-a-half minute opus that broods and bends and channels a complex darkness into something wholly captivating." Gold Flake Paint
"…another profoundly heartfelt, evocative and blissful journey into ethereal and emotional darkly soundscapes made of minimal sparse guitar layers intricately interwoven with the bewitching and mesmerizing Henna's voice. A burst of bedazzling brilliance that will awaken your senses." WhiteLight/WhiteHeat
"Kysymyksessä onkin ilahduttava tuotos kaikille vanhojen aikojen Hollywoodin ystäville. Video on nimittäin Heta Saukkosen ja Henna Hietamäen uusi leikkaus vuonna 1931 julkaistusta Svengali-elokuvasta. Sekä leffassa että kappaleessa käsitellään samoja rakkauden, alistumisen ja kontrollin teemoja." Soundi
"Tuomas Alatalo and Henna Emilia Hietamäki explore forbidden themes of "hedonism, escapism, submission and addiction" and ensconce them once again in a beguiling musical dream state". Indie 30
Praise for third single Tunnel
"Cats of Transnistria's 'Tunnel', merge David Lynch/Angelo Badalamenti-esque eerieness with a powerful wall of feedback and drippings of distorted guitar and unnerving harmonies. The opening of the song is quite dreamy but this evolves into Godspeed-inspired post-rock with added string arrangements that will not go the way you expect. It's an inspiring listen." Spectral Nights
"Shoegazey dreamy goodness…'Tunnel' is dark and mysterious, with tender vocals and mesmerising background" Nordic By Nature
"You're not going to find another act operating so beautifully" Austin Town Hall
Cats of Transnistria : Opium (Soliti 065) Released 2nd February 2018.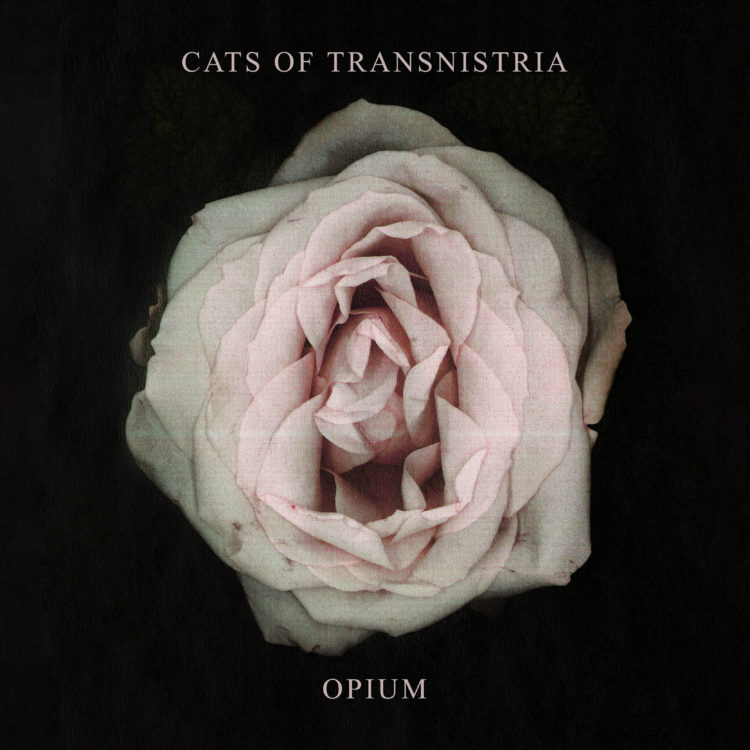 Opium album sleeve by Sofia Okkonen
Candy Man
Tunnel
Nightingale
October
Trees
Feeding
Love
Opium
The album title Opium refers to two points of reference – Cats of Transnistria vocalist Henna Emilia Hietamäki expands on this: "Firstly, it depicts the atmosphere and the impact of the album. One of the ambitions behind our slowly pulsating music is to soothe the nervous system. The second meaning can be found in the repeated themes behind the songs: hedonism, escapism, addiction and losing oneself."
The album was recorded and mixed by guitarist and sound designer Tuomas Alatalo. Being in total control of the recording process is a further step for the band in widening the soundscapes and being even more specific to the world Cats of Transnistria are creating. In addition to Hietamäki and Alatalo, the violinist Sanna Komi is featured on the album, adding profound beauty through her string arrangements.
Follow Cats of Transnistria