Soliti welcomes Puunhalaaja to the family. Debut album released on the 20th November.
Life often throws up surprises. Music associations often bring the best recommendations. Puunhalaaja is an instance where all those readied expectations don't exist. First experiences were awe filled excitement and a genuine feeling that a gem had been unearthed. With minimum back story and just the realization that a great album can be the story, Puunhalaaja fulfill these feelings and more across the nine tracks that make up his self titled debut album. Touchstones and comparisons don't do justice. Yes, it's folky but it rocks. Mood is consistent. Themes of recovery, personal struggles, coming to terms with social and political perspectives, love and life mean that Puunhalaaja displays substance and needs an astute ear to decode its ideas. Soliti is very proud to extend a warm welcome to Puunhalaaja as he joins the family. Soliti releases Puunhalaaja's s/t debut album on the 20th November, 2015. 
Stream/download Härkä ja paimen here
The first single from Puunhalaaja, Härkä ja paimen is a great showcase for Puunhalaaja's songwriting chops. Rolling drums, sweet acoustics and a symphonic synth only enhance the melodicism and personal vocals on display. It's addictive. Soundi premiered the single this morning.
In his own words, when asked for a press release, this is what Soliti got: "Puunhalaaja on oikeastaan maunulalainen juttu, sillä ilman Maunulaa ja tiettyä possea ei voisi olla näitä biisejä. Albumi syntyi rakkaudesta ja kyllästymisestä jammailuun, ehkä pohjaksi uusille sessioille, kun musiikkia on niin vaikea muuten selittää." For those with a barely registered  understanding of Finnish, Google translation won't help: "Tree-hugging (Puunhalaaja) , is actually Maunula kind of thing, because without Maunul and certain possea could not be any of these songs. The album was born of love and saturation of jamming, perhaps as a basis for the new session when the music is so difficult to explain otherwise."  
Puunhalaaja : Puunhalaaja (Soliti 047) Release date: 20.11.2015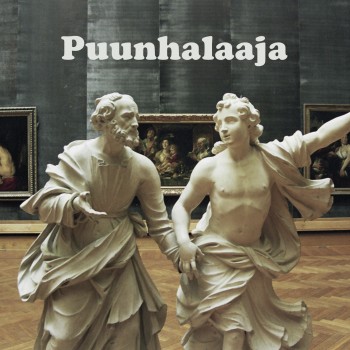 1. Alkusoitto
2. Post-it-lappuja
3. Työ vapauttaa
4. Härkä ja paimen
5. Maa viettää
6. Päivänkakkaroita
7. F=ma
8. Mietteitä metrosta
9. Hymyillään hymyillään (loppusoitto)
All songs Puunhalaaja. Played, recorded and mixed by Puunhalaaja. Mastered by Philip Granqvist. Artwork by Roope Alho.