New album 'We Said We Didn't Know but We Knew' arrives 13th November

As the opening track from 'We Said We Didn't Know but We Knew' – the new album from  KO:MI  – "I'll Find My Own Way" enchants with it's almost mantra like evolution, vocals skat over plucked strings before opening up to a layered world of pastoral sweetness and mayhem – each instrument pushing boundaries rather than sitting in place. KO:MI in the end does find her own way to go.
Sanna Komi (KO:MI) explains the themes behind the new track "I'll find my own way' is a song born of pure improvisation. I wanted to create a very layered and textured piece of music that would have a floating feeling to it. The lyrics were improvised, too; somehow the message of enduring and carrying on seemed to fit the effortlessness I was searching for. The wandering flutes played by Suvi Linnovaara, and the comforting warmth of the cello and double bass played by Saara Viika and Markus Perttula respectively underline the necessity of care even while taking part in actions that require toughness and perseverance." 'We Said We Didn't Know but We Knew' album is out on the 13th November via Soliti. "I'll Find My Own Way" is officially released this coming Friday, 30th October 2020.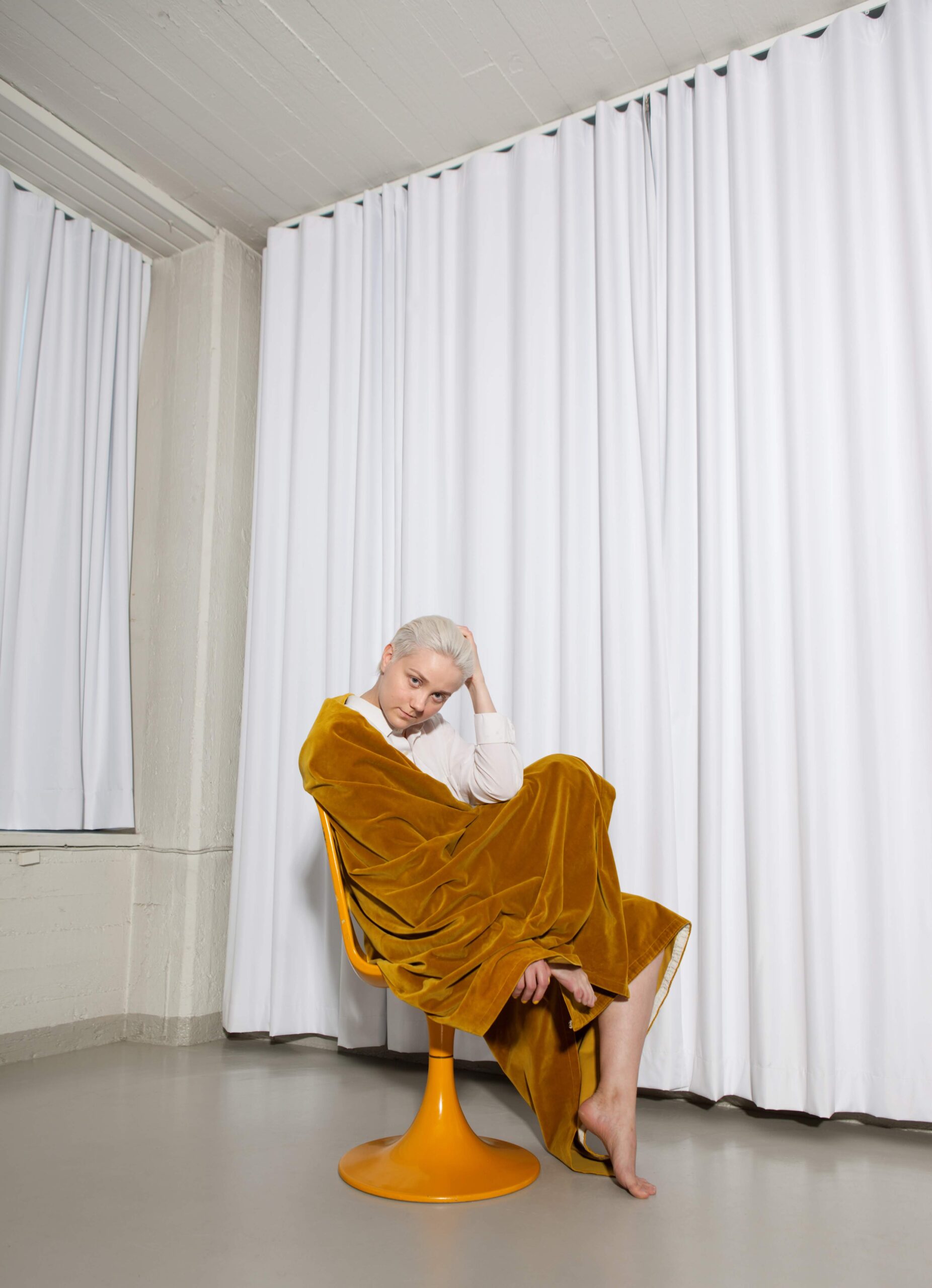 Nordic Music Review "…it's a comprehensive piece. The early plucked instrumentation conjures up an oriental feel, as if they're playing while sipping tea in an ornate Japanese garden"
Päivän Biisit "Solitille levyttävä KO:MI hemmottelee hieman taiteellisen ja folkimman indien ystäviä tyylikkään haahuilevalla ja erikoisella singlellään I'll Find My Own Way."
Austin Town Hall"…it's really all about the creative elements intermingling in this cauldron of pop sensibility"
Where The Music Meets"I'll Find My Own Way, the latest track from the Finnish' KO:MI, is a beautiful folk contemplation that leaves us both dreamy, contemplative, and floating in the air of no concerns"
Earlier in 2020 we had two songs from 'We Said We Didn't Know but We Knew' appear in video form: Watch the Thelma and Louise inspired clip for "Liquid Walls"
And then the video for the title track "We Said We Didn't Know but We Knew" which takes the video gaming world of Danielle Baskin as a starting point. Both videos have been made by Hetta Inari Komi.
PRESS REACTION TO FIRST TWO SONGS
"First things first, Liquid Walls is simply a beautiful song. The melody is as sweet as a nut, matched by Sanna Komi's unadorned voice.." SWIT
""Liquid Walls" is a lovely song with a cinematic quality ably illustrated by the video, and Sanna's vocals are pure magic." When You Motor Away
"… the song surprises with its divine beauty. There is always space on the pop side and when the cello and clarinet lean against a meager, electronic background, some magical pieces are created…" Desibeli
"…new single We Said We Didn't Know but We Knew will play irresistibly organically with its strings." Päivän Biisit
"(Philip) Glass's minimal, slowly repeating simple notes and chords are there along with, somewhat incongruously, Twigs' dramatic, theatrical representations. She might have mentioned Kate Bush as well, as she does sound more than a little like Bexleyheath's finest in the latter half of the song.  Oh, and Regina Spektor." Nordic Music Review
We Said We Didn't Know but We Knew  is the second album from KO:MI, Sanna Komi's solo project. It is a thematic album about continuing to live and love during multiple environmental emergencies and the social injustices built in them. Its stories often concern love and relationships, but the societal backdrop, implicit at times, becomes overt and explicit by the end of the album. Amongst anger and frustration with the seeming inability of humanity to deal with climate change and growing global inequalities – an inability that especially us in the global North are irreversibly entangled in whether we have chosen so or not – there is also hope and compassion for humanity as a whole.The multi-layered violin and electronic compositions of the album are accompanied by performances from Mikko Joensuu on vocals, Suvi Linnovaara (AINON, Perussastamala 6, Tikka & Linnovaara) on clarinet and flute, Saara Viika (Café de Abejas, Phenomenal Creature) on cello and Markus Perttula (Sans Parade) on double bass and vocals. The album is produced, mixed and mastered by acclaimed producer Pasi Viitanen (Ros Red, I Was a Teenage Satan Worshipper).
"I began work on this album wanting to write music for weekend mornings: not depressing, but not too chipper either. It gradually turned into an outlet for anxiety caused by Things That Are Wrong In The World that I analyse in my PhD work. While the themes and subject matter are quite heavy, the album itself became pleasantly light and perhaps easier to approach than my debut. I have come to describe the compositions as associations that my brain makes after extensive listening of Philip Glass and FKA twigs." -Sanna Komi
Sanna Komi is a multi-instrumentally talented musician known from a variety of Finnish indie bands (e.g. Pintandwefall, Kynnet, Cats of Transnistria), and a global development researcher interested in human/nonhuman nature relations. Her debut album Songs of Them came out in 2017.