The new single arrives on the 6th April 2023
The ever evolving Knife Girl – producer and songwriter Lili Aslo –  returns with a new supercharged slice of pop goodness – "Eat You Alive" is best served hot, blasting at full volume wearing you dancing shoes. 
"Eat You Alive is about unhinged horniness. It's about wanting to forget about how love has hurt you for a second and giving into your dumb lust. I wouldn't say I'm super knowledgeable about Ska but people tell me this song sounds like Ska. I think it sounds like sex. This is the last single before I begin releasing music off of my second full length album." Aslo tells us.
Listen to Eat You Alive

Written, produced and performed by Lili Aslo.
Mastered by Tuomas Salmela @Phonogenic Audio
Initial Reaction
"It's a piece of funky goodness that sounds like a sped up version of a lost disco classic. The song combines Prince-like guitars, a shameless octave bass line and Lili's trademark pitch-manipulated vocals."Loudness
"The song rattles along at a fair pace from beginning to end, a prominent bass line setting the beat at about 75 humps per minute (yep, I can do 'dumb lust', too!) and the more you listen to it the more it takes on a novelty Eurovision persona…All of this just goes to show how innovative and versatile Knife Girl is" Nordic Music Central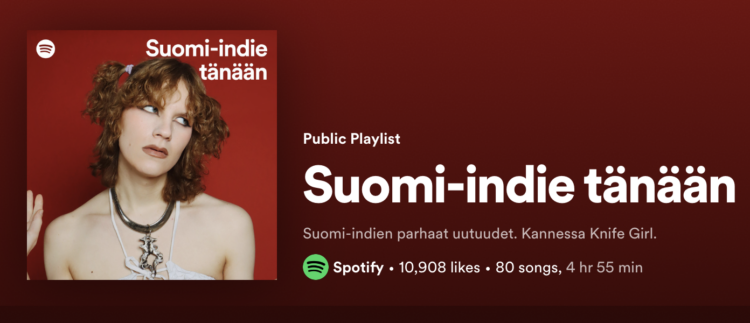 Listen here
"… you can't deny that turning this up doesn't just get your body shaking and grooving as you listen through…I love my pop music upbeat and out there" Austin Town Hall
"Songwriter and producer Lili Aslo is a Finnish musical icon…Aslo is back with a deliciously bouncy pop number called 'Eat You Alive'." Alfitude
"If your dirty mind makes the name of the song sound somehow rude and double-minded, that's okay" Rumba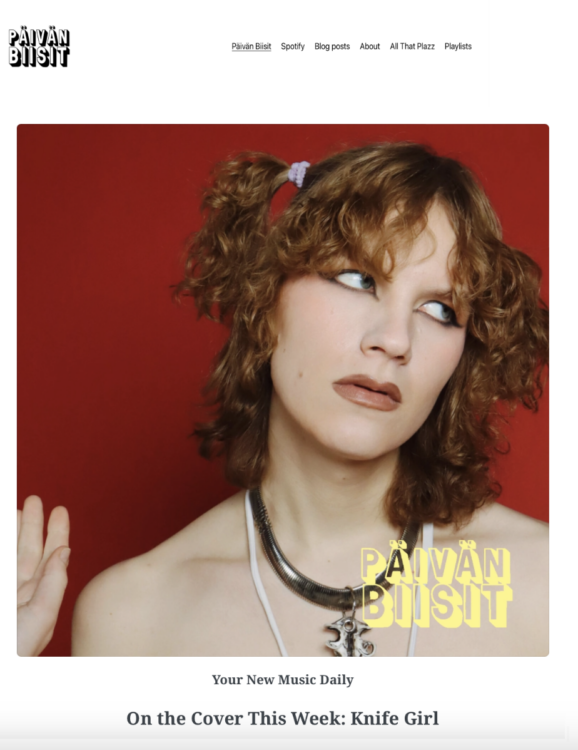 Listen to Päivän Biisit's playlist here
---
Upcoming shows
06.04.2023 — Kuudes Linja, Helsinki
20.04.2023 — Sellosali, Espoo
08.06.2023 — Sideways Festival, Helsinki
10.06.2023 —  Pikipop, Oulu
29.06.2023 —  Provinssi, Seinäjoki

07-09.07.2023
—
Ruisrock, Turku

13.08.2023 —  Flow Festival, Helsinki
25/26.08.2023 —  Festivali, Tampere
Some things you may have missed.
Listen to an audio Documentary about the making of Knife Girl's Uniform album
Lili Aslo interviewed at YleX
Knife Girl featured at Impala's  100 Artists To Watch in 2023 feature
This is Knife Girl playlist via Spotify