Debut album Uniform is released on the 23rd September 2022
Last month Knife Girl shared her first single from her forthcoming debut album Uniform, with the surprisingly rocking sound of "

The Good Times Are Coming Your Way

" Today Knife Girl reveals the latest morsel from the new album with "Never Let Go", the single reflects a perfect representation of the new organic approach combined with Knife Girl's more traditional pop instincts. "Never Let Go" is released 2nd September 2022.
Of the single, Lili Aslo (Knife Girl) explains "My partner at the time was coming over to visit me. As I waited for her train to arrive, I jammed with my guitar and hummed what would end up becoming the melody of this song. I reminisced about moments from our earlier dates. Things like the bread we ate and the beers we drank on a bench by the docks. I knew that at some point, eventually those fond memories would fade away in my mind, which made me a bit sad. Musically, I wanted this track to sound like a soft, warm memory."

"One of the best songs of early autumn" Rumba
"It's a vision the artist achieved on "Never Let Go", a peppy commemoration of mundane moments in time that so often transpire to be the most precious without us realising." profile via Wonderland Magazine
"There's an easy going nature to "Never Let Go" that'll have you intoxicated on the tropical mirage of the track" Abduction Radiation
"Proficient in capturing the essence of a moment, Knife Girl's latest offering is a nostalgic cut of sun-dappled guitar and rapturous polyrhythmic bliss comprised of twinkling synths and demanding brass" Purple Revolver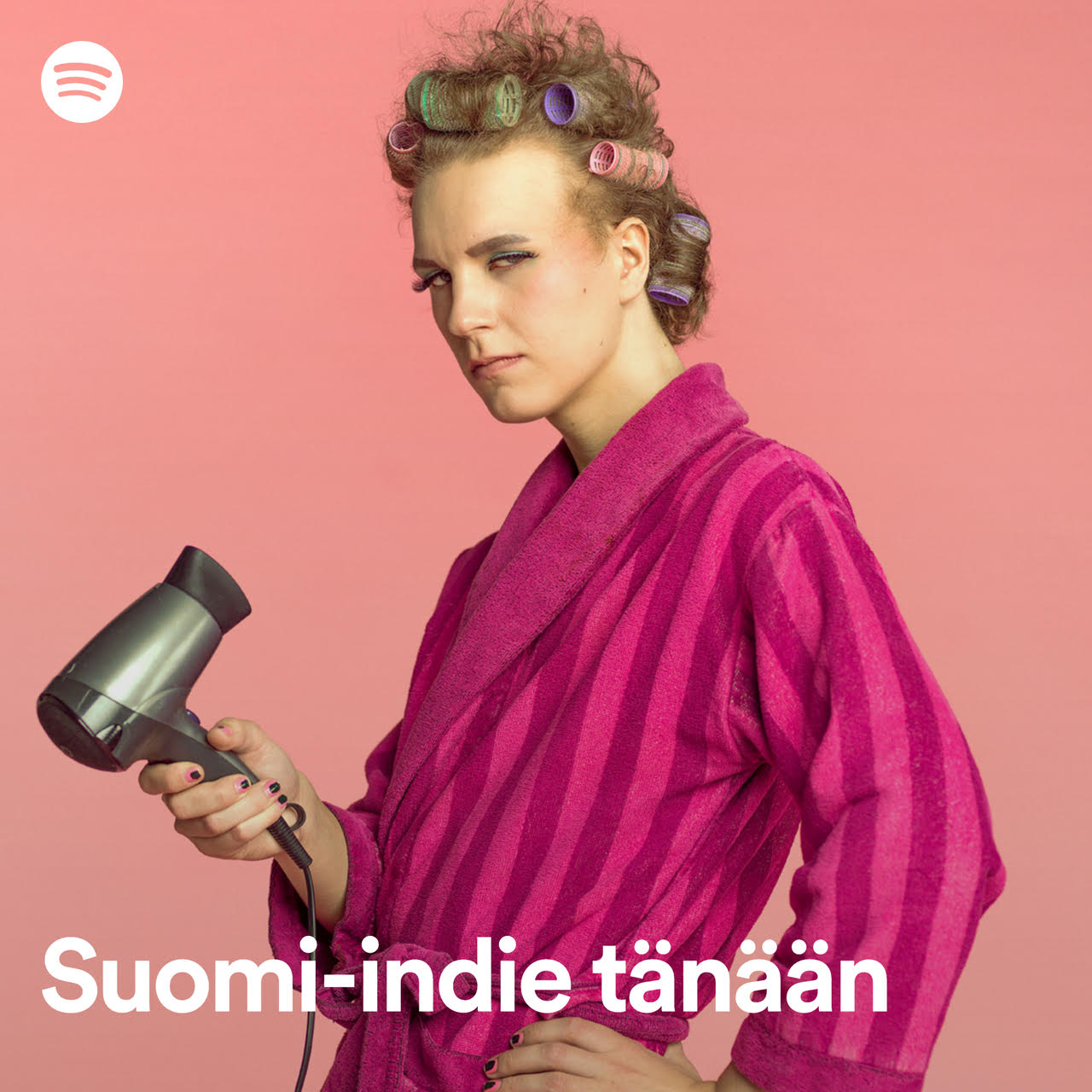 Spotify Playlist cover!
---
Available on vinyl/digital formats
Stop Time
The Good Times Are Coming Your Way
Ready For Love
Never Let Go
Precocious Baby
On The Line
Brain Dead (Just Do It)
Will This Catch The Algorithm
Whisper
Credits:
Produced and Arranged by Lili Aslo
Songs 1-7 by Lili Also.
"Will This Catch The Algorithm" written by Lili Aslo, composed by the band.
"Whisper" by Atta + Himera, with additional parts written by Lili Aslo.
Recorded at Art Lab Studios Helsinki.
Engineered by Nick Triani and Lili Aslo.
Mixed by Lili Aslo
Mastered by Philip Shaw Bova
Cover art by Maia Kavasto
The Band
Kalle Kauranen: Bass
Joona Kinnunen: Drums, Bongo
Anttoni Hill: Guitar
Eetu Tuominen: Guitar
Laura Salmenkallio: Guitar
Reko Kälkäjä: Piano, Synth
Aapo Soulanto: Saxophone, Synth.
Forthcoming debut album
Uniform
– releasing on the
23rd September 2022 via Soliti/Playground
–  Knife Girl describes
Uniform
as a more thought out songwriting process compared to other Knife Girl releases, a mature summation of the Knife Girl sound up to this point. Different lyrical themes mix with fun loving musicians who wanted to explore Knife Girl's more overtly rock inspirations.
Uniform
acts as a perfect balm to the often genre defying concepts that Knife Girl has forged with her career this far, a more
refined and grand central statement.
In other news Knife Girl joins Fullsteam Agency. Knife Girl's agent Maija Kaarna comments "Fullsteam Agency  is very happy and exited that the amazingly gifted and talented Knife Girl is now in our roster!"
KNIFE GIRL – upcoming shows
2.9. Ditt Kvarter, Umeå, Sweden.
17.9. Metronom, Raasepori
30.9. Telakka, Tampere (Lost In Music)
12.11. Tullikamarin Klubi, Tampere
Recent press
"With its bright and vibrant flavour layered throughout, 'The Good Times Are Coming Your Way' is a true joy to listen to. Jam-packed with bold and toe-tapping hooks from start to finish, be prepared to have this one stuck in your head long after you've first heard it." Interview with Lili Aslo via Music Crowns
"On lead single, "The Good Times are Coming Your Way", she and her backing band add a bit of muscle to the music, dipping into propulsive indie rock that wears its heart on its sleeve. The guitars strike and retreat, occasionally recalling the wiry fretwork of Talking Heads or a less serrated Gang of Four, and her voice is a whir of ferocious melodies that skyrocket upward into the lower atmosphere. " Beats Per Minute
"Knife Girl has musical creativity pouring out of her ears. So far, she's released an experimental discography that freely interchanges between genres. This new single is feel-good indie pop with motivating lyrics. Just what the doctor ordered." The Rodeo Mag
"The Good Times Are Coming Your Way begins with a downright joyous start, wafting through boisterous drums and wild guitar stomping while the lyrics carry the listener towards a hopeful outlook: good times are really coming your way! However, the song doesn't feed into any gullible fluff, instead the story roars with jaggedness and lived life." Rumba
"The first time you hear it, it will rivet you. Three or four spins later and you won't want to listen to anything else all week." Nordic Music Central
"we will opine that her music is the sharpest of pop/rock with a big, euphoric sound and plenty of bounce." WYMA
"the musically irresistibly good-natured, but lyrically exploring deeper waters single" Soundi
Small bio
Releasing music under different guises since 2013, 21 year old Lili Aslo ( aka Knife Girl) has 5 EP's under her belt, and has collected more than 12 million listeners on various streaming services. Knife Girl released her debut EP Metro, in June 2021. Catching the attention of tastemakers such as Wonderland, Earmilk, Dummy, BBC Radio 1 and many others – all noted a serious talent had arrived. Last November's 10 track OONA EP further cemented Knife Girl's growing reputation as a producer and songwriter of adventurous sonic endeavours replenished with special melodic gifts. In 2022, Knife Girl was nominated for "newcomer of the year" at Finland's Indie Awards, and listed as a "breakthrough artist" by Finnish National Radio, YLEX. The
Uniform
album finds Knife Girl once again exploring new terrain, adding more twists to her musical accomplishments thus far.
Web Page
Instagram
Twitter
Spotify