Seventh Baby is out 25th February 2022 on Vinyl/digital.
Pintandwefall
reveal details of their new album,
Seventh Baby
, which arrives via
Soliti
on the 25th February 2022.
Pintandwefall tells us of
Seventh Baby
"We started sending each other demos after the pandemic started and our previous album tour got cut short, and a lot of the songs coincidentally dealt with different aspects of everyday life with an absurd twist to them. We recorded the album within a 6-day period during the hottest days of early July, and it ended up becoming more guitar-driven than our previous albums, with some soft shoegaze moods in the mix. We were and are especially hyped about working with
Liisa Tani
, aka
Sir Liselot,
on this album, and her energy and unique touch can be heard throughout the songs. Also, it was about time to have an all female panel in the studio! We hope you will love listening to Seventh Baby as much as we loved making it <3″
Listen to first single "Aihai"

Credits: 
Written by Ringa Manner
Lead vocals, Electric Guitar: Cute Pint
Electric Guitar, vocals: Dumb Pint
Bass Guitar, vocals: Crazy Pint
Drums, vocals: Tough Pint.
Produced, recorded and mixed by Liisa Tani, recorded at Pihastudio 2021
Mastered by Pekka Tuomi
ISRC: FI9PF2100226
Cute Pint tells us of "Aihai" : "The song is about missing someone a lot, and wanting to ask them over because it's been so long since you've seen them or anyone really, but you know you get all babbly and annoying when you're excited or have been by yourself for too long so now you're worried if they come over you'll just ruin it somehow and they never want to spend time with you ever again." "Aihai" is released on the 14th January 2022

INITIAL REACTION
"…it's a feeling that's likely going to have your stomach churning and turning in the best way" Austin Town Hall
"I like more catchy pop songs, but I love this taste of exquisite lines that aren't extremely serious or melancholic."
Niche Music
"Pintandwefall is undoubtedly one of the gems of Finnish Indie." Päivän Biisit
"….the song explodes like an anthem, a choir saturated with vocals and textures that MUST be heard at full volume, until the coffee cup on the table vibrates." TSDTTM
"It's a bundle of energy from start to finish,with plenty of melody, great harmonising and a distinct flavour of Siouxsie and the Banshees on speed about them."
Nordic Music Central
---
Pintandwefall: Seventh Baby (Soliti 096)
Released 25th February 2022 on vinyl and digital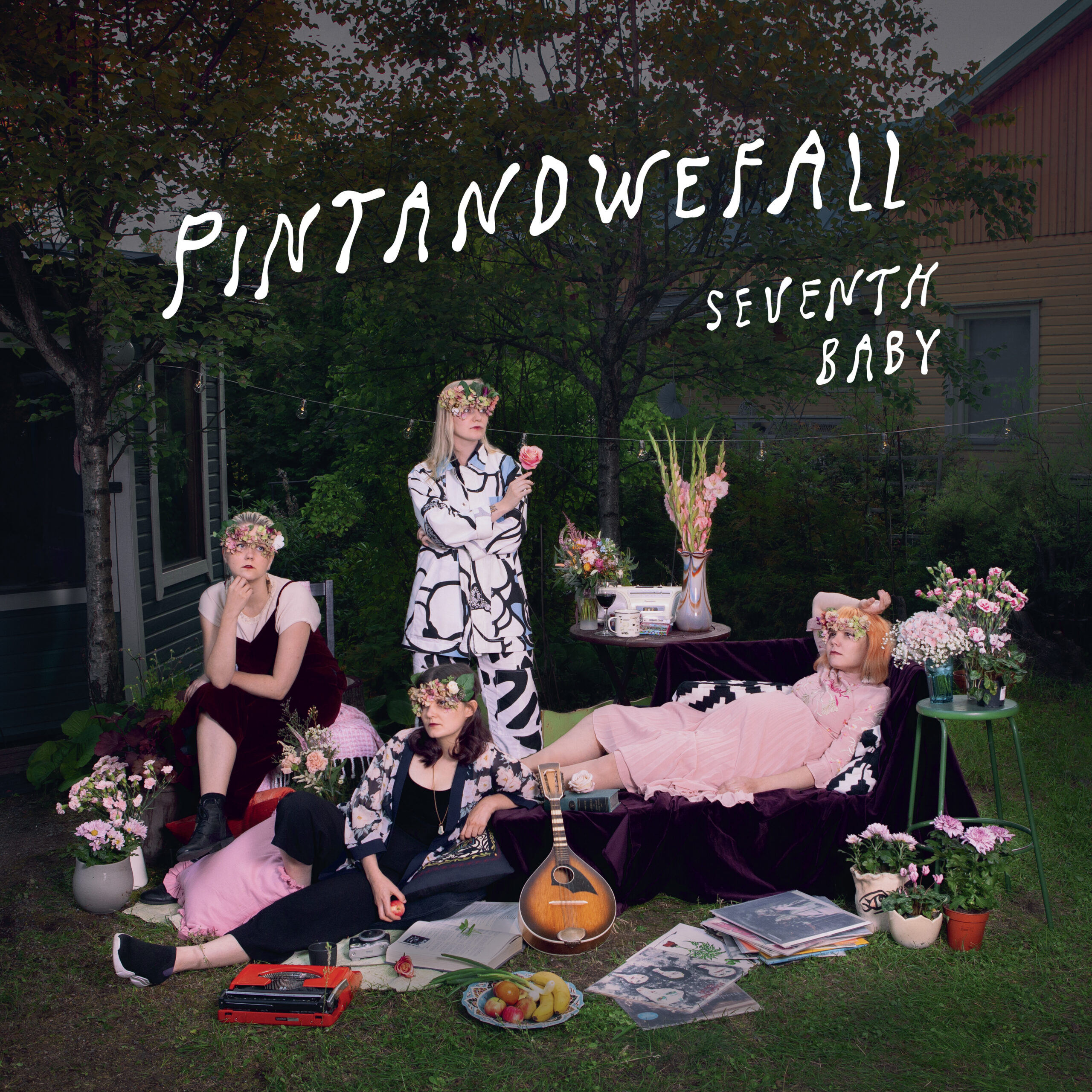 Aihai
Annabella
Tuesday No Brain
The Thunderstorm
Home Alone, Sane
Clues
Cannot Stay, Cannot Go
Friendly Hand
Hard Work
Dust Maker
Last Minutes
Mostly Me
Produced, recorded and mixed by Liisa Tani, recorded at Pihastudio 2021
Mastered by Pekka Tuomi
Cover photo by Hetta Inari Komi
Cover design by Seidi Guzejev
Small Pintandwefall bio
Pintandwefall consists of four musical geniuses all of whom are founding members of Pintandwefall. Over their 15 years of existence the band have released six albums, a few EPs, dozens of music videos, and a bunch of other nice things. Pintandwefall's members (Sanna Komi, Ninni Luhtasaari, Ringa Manner and Iiti Yli-Harja) have extended their artistic tentacles throughout the Finnish music field in bands such as Ruusut, Risto, Kynnet and RULES, and also as solo performers in The Hearing, Ninni Forever Band and KO:MI. In other words, this is an exceptionally powerful reverse superband whose plan is to carry on carrying out their spontaneous ideas forever.