Legendary EP releases finally get a digital release out today 6th May.
A great surprises of 2016 has been the return of one of Soliti's favourite bands ever – The Duplo! As well as the original line-up reforming and playing show's, they've even released some new material. This first compilation, Full Speed, No Brain –  The 7″ Singles Compilation  features their legendary and very rare series of EP's Time To Fight, Time To Kill (Hola Hola Rec. 1997), Cold Ring Of Rock 'n' Roll (Bad Afro Records 1998) I'm The King (Stupido Records 1998) – all are long out of print, so the Full Speed, No Brain re-issue gives a well overdue first time digital encounter.
"The Duplo! never sounded this raw! Remastered by legendary Didier (Soul Investigators, Yona…) and released by the mighty Soliti. The three original 7's from the 90's first time ever online! Hola Hola Rec, Bad Afro Records and Stupido Records we salute you! This is raw! This is Teen Trash! This is punk rock!"  The Duplo! org
Pick up Full Speed, No Brain –  The 7″ Singles Compilation from the following selcted outlets
The Duplo! had a reputation already back in 1997 for playing wild in your face gigs with raw attitude, suburban slacker style and a perfect combination of 60's garage rock married to nasty punk. A reputation was soon secured after playing shows with fellow rock n roll noisesters The Flaming Sideburns and Thee Ultra Bimboos. Garage rock circles dug The Duplo! and word of their greatness soon spread amongst the scene, with Crypt Records showing some interest but the band headed for the Danish imprint Bad Afro Records. Bad afro  had already cut loose some cool cuts featuring the likes of Turbonegro, Hellacopters, The Flaming Sideburns, Larry And The Lefthanded and Backyard Babies. The Duplo! then headed back home for their last EP release, with Helsinki's first indie home, Stupido Records. The I'm A King EP proved to be the band's last slice of garage punk before  the band morphed into something different yet still brilliant. But that's another story.
Some initial coverage for Full Speed, No Brain –  The 7″ Singles Compilation: Rumba premiere, Soundi interview, Rumba interview, Voima interview, Sylvi 4/5 review.
The Duplo!: Full Speed, No Brain –  The 7″ Singles Compilation (Soliti Retro 004) Released: 06.05.2016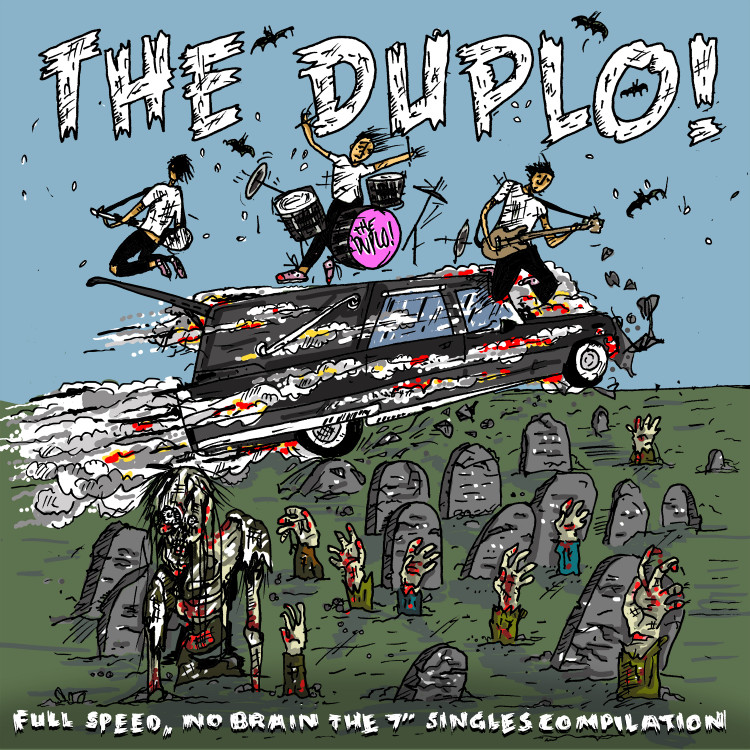 Justine

Firebabe

I'm A Man
Downtown 165
Rocket Girl
Morbid Illusion
Cold Ring Of Rock
Hey! Hey! Hey!
I'm The King
Bad To Be Mad
Ride On!
Good Morning Paris
promo pics by Nauska
album cover by Mika Lahtinen
The Duplo! is Aleks Duplee (Aleksi Pahkala), Lars Duplee (Lasse Kiehelä) and Waikiki No Tom Tom (Wallu Valpio).