It could have been when weighing up the odds as to whether to start watching Game of Thrones or West Wing when the unexpected happened. A message through messenger of all things. "hey, I've been writing some songs…". First impressions etc: Blown away. Puunhalaaja was known as a dabbler in guitar playing, experiments with pedals, but songs? Never heard any. Always a touchstone for sharing music together and such, Puunhalaaja always led me to fresh sounds and ideas. I have no idea where this music came from, but it connected. Pekka Streng and Pavement were just two things I felt Puunhalaaja had a kinship with, which may lead you to draw some conclusions. But that doesn't do justice to the world Puunhalaaja has created on his self-titled debut. These songs endure and grow with lovely arrangements and strong personality. And Puunhalaaja does it all himself too. In his own words, when asked for a press release, this is what I got:
"Puunhalaaja on oikeastaan maunulalainen juttu, sillä ilman Maunulaa ja tiettyä possea ei voisi olla näitä biisejä. Albumi syntyi rakkaudesta ja kyllästymisestä jammailuun, ehkä pohjaksi uusille sessioille, kun musiikkia on niin vaikea muuten selittää."
For those with a barely registered  understanding of Finnish, Google translation won't help:
"Tree-hugging (Puunhalaaja) , is actually Maunula kind of thing, because without Maunul and certain possea could not be any of these songs. The album was born of love and saturation of jamming, perhaps as a basis for the new session when the music is so difficult to explain otherwise."
"What we do know is that this artist, whoever he is, has recorded an album born of love and the saturation of jamming, all played, produced and mixed by Puunhalaaja, by himself. The music brings a variety of sounds, bridging the folk tales of Pekka Streng with the fuzzy fantasies of Pavement." Glue / Rosvot
"This kind of songwriting style (Härkä ja paimen) reminds me of Bowie's Hunky Dory -album era and I'm looking forward to hear the whole album." Emmi Kuuntelee
"Musically, it's a great piece of songwriting. The guitar has this intimate quality, and the vocals are really pleasant; I don't even want to mention the nice symphonic touches that make me melt." Austin Town Hall
"Puunhalaajan folk-vaikutteisessa ilmaisussa analyyttisyys, arvoituksellisuus ja kotikutoisuus paiskaavat kättä orgaanisella ja kiehtovalla tavalla." Soundi
"Puunhalaajaa on helpoin verrata esimerkiksi Pavementin tyylisiin yhtyeisiin. Kitaraindiestä siis on kyse, mutta omalla erikoisella twistillä." Rumba
"This is probably an album for those that like quirky offbeat musical offerings, and those with an appreciation of musicians with a genuine passion for what they do.  'Puunhalaaja' is a fascinating and clever album, and a real hidden gem too." Nordic Music Review
So, Soliti is very excited to be releasing the debut album by Puunhalaaja on the 20th November 2015.
Puunhalaaja : Puunhalaaja (Soliti 047) Release date: 20.11.2015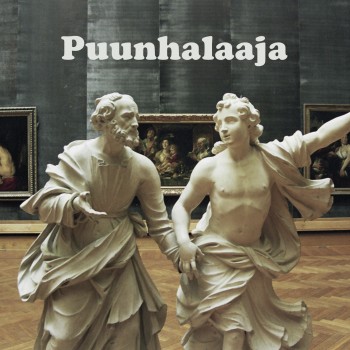 1. Alkusoitto
2. Post-it-lappuja
3. Työ vapauttaa
4. Härkä ja paimen
5. Maa viettää
6. Päivänkakkaroita
7. F=ma
8. Mietteitä metrosta
9. Hymyillään hymyillään (loppusoitto)
All songs Puunhalaaja. Played, recorded and mixed by Puunhalaaja. Mastered by Philip Granqvist.
Artwork by Roope Alho.